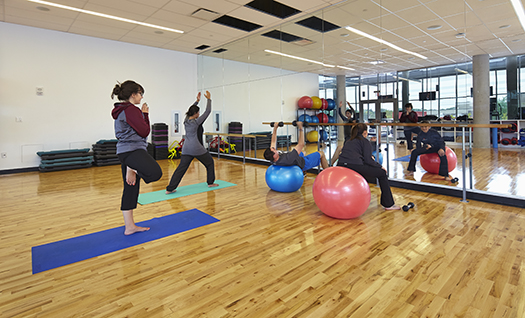 We offer a variety of fitness programs to David Braley Athletics & Recreation Centre members. Our fitness programs include:
Fitness Floor Bootcamp i

s guaranteed to make you sweat! This high intensity class will engage every muscle in your body. This class will integrate equipment on the fitness floor. The format of this class will vary each week!

Body Weighted Bootcamp is a high intensity class that will engage every muscle in your body. This is a type of group exercise that mixes traditional calisthenic

and body weight exercises with interval training and strength training.

Core

is a 25-minute workout geared towards building strength and muscular endurance in the muscles supporting your torso and spine. This class will integrate body-weighted movements with a variety of equipment to focus on muscles in your abdomen, pelvis and back.

HIIT

is a full body workout developed to leave you breathless. HIIT is a high intensity interval training class. HIIT workouts include bursts of cardio and strength based exercises coupled with active rest.

Pilates is a system of exercises, often performed using equipment, designed to improve physical strength, flexibility and posture. Pilates involves low-impact exercises and stretches, suitable for all levels. Bring your own mat or use the mats and equipment provided.

Spin

is a stationary indoor cycling class geared towards maintaining or building your cardio. Spin is a low-impact class, easy on your joints. You control the intensity of the workout by adjusting your own bike, making this a suitable workout for novice to advanced members.

STRONG by Zumba®

is a great workout for fitness enthusiasts looking for a more challenging, high intensity interval-training workout. The music in STRONG by Zumba® was crafted to drive the intensity in a challenging progression that provides a total body workout. This class will push you past your plateaus to help you reach your fitness goals faster. Using your own body weight, you will gain

muscular endurance, tone, and definition, and you will experience an increased after burn

Yoga

will help you improve your strength, balance and flexibility

through traditional yoga postures. Yoga will help you relax your mind while gently challenging, stretching, and relaxing your muscles. Bring your own mat or use the mats provided.

Zumba®

is your ultimate workout dance party featuring easy-to-follow moves coupled with amazing, motivating rhythms. It gives you an interval style workout; fast rhythms to get your heart pumping, combined with slower songs to maintain your heart rate.
Visit Recreation at the DBARC for information on extramural and intramural activities. 
Winter 2019 Fitness Class Schedule
Classes are included in your DBARC membership and Winter Fitness Classes run January 14 to April 19 excluding holidays/college closure dates.
Time

Monday

Tuesday

Wednesday

Thursday

Friday

Sunday

9:10 am
10:00 am

 
 
 
 
 
Yoga

12:10 pm
1:00 pm

Zumba

Bootcamp
(Fitness Floor)

HIIT
Spin
Yoga
Bootcamp
(Fitness Floor)
HIIT
Spin
Zumba
 

1:10 pm
2:00 pm

Yoga

Bootcamp
(Fitness Floor)

Pilates
Spin
 
 

5:10 pm
6:00 pm

Spin
Yoga
 
Spin
Spin
 
 

6:05 pm
6:30 pm

Core
 
Core
 
 
 

6:10 pm
7:00 pm

 
 
 
Zumba
 
 

6:35 pm
7:00 pm

Core
 
Core
 
 
 

7:10 pm
8:00 pp

Strong Zumba
 
HIIT
 
 
 

8:10 pm
9:00 pm

 
 
Body Weight
Bootcamp
 
 
 
Hours of Operation and Closures
The Fitness Centre will also be closed on all Statutory Holidays.
View hours of operation for the David Braley Athletics & Recreation Centre.
Please send any feedback or submit a comment by email to dbarc [at] mohawkcollege.ca or call 905-575-2744 for further assistance.