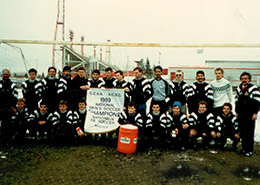 The Mohawk Mountaineer's 1989/90 Men's Soccer Team still stands as the best outfit our men's soccer program has assembled in the soccer programs history. Under the direction of coaches John McDonald and Tom Bell, the 1989/90 men's soccer team went on to win gold at the OCAA and CCAA National Championships.
Coach John McDonald's Comments:
"The team developed a tremendous defence, marshalled by Mauro Ciampa, Paul Fenwick and Albert Cantarelli as central defenders, backed by great goalkeeping by Dennis Piccolotto and John Van Aiken. Our midfield general and Captain Bob Pretto was totally driven to make the season a winning one as strikers Peter Jedryk, Tio Mascia and Mike Wortel gave the team great offense and speed up front. Bob Pretto was named a CCAA All-Canadian and OCAA League All Star along with Mauro Ciampa and Dennis Piccolotto".
 The teams 1989/90 season was one for the record books. They finished with a record of 9 wins, 0 losses and 1 tie with 26 goals for and 2 goals against on their way to winning the OCAA West Division.  They swept the competition at the OCAA Championship winning the OCAA Gold Medal in dominant fashion, not allowing a single goal in the playoff round. This result qualified them for the CCAA national championship in Calgary, Alberta. Their resiliency over the championship fending off the weather and great competition led them to a CCAA Gold Medal overwhelming the competition where they would outscore their opponents 13 to 3 in their four matches.
Season Achievements:
CCAA Gold Medal
CCAA All Canadian – Bob Pretto
CCAA Championship MVP – Peter Jedryk
CCAA Championship All Stars – Dennis Piccolotto, Bob Pretto, Albert Cantarelli
OCAA Gold Medal
OCAA West Division Champions
OCAA League All Stars – Dennis Piccolotto, Bob Pretto, Mauro Ciampa
Goals For – 47
Goals Against – 5