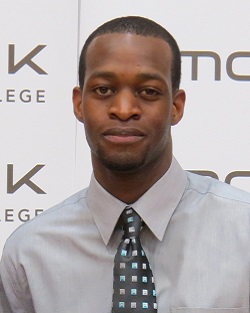 One of the most talented and decorated players in the history of men's basketball at Mohawk. Aminu Bello was a Mountaineer from 2010 to 2012. He was a two-time OCAA West League All-Star, and in his first year he led Mohawk in scoring - 305 points, 32-3 pointers, 114-2 pointers and 45 free throws. He had an impressive 16.94 points per game average. He was the team's MVP that year and participated in the OCAA All-Star game.
In his second year as a Mountaineer, Aminu really raised the bar. He was OCAA 1st team League All Star with 440 points, averaging 24.4 points per game, 24 steals, 25 assists, 19 offensive rebounds, 45 defensive rebounds, 38-3 pointers, 159-2 pointers and 84 free throws. That year he led his team to the OCAA Gold medal and was awarded Player of the Game in the gold medal match.
Aminu then guided the Mountaineers to a gold medal win at the CCAA national championship in 2012 (1st gold since 1972). Then came the awards where Aminu was named, CCAA All Canadian, Player of the game for the national championship gold medal match, an OCAA and CCAA All Academic Athlete, he was named the OCAA and CCAA Male Athlete of the Year (across all sports). At the Athletics Banquet Aminu was honoured by the College as the winner of the Dr. Sam Mitminger Award, the highest recognition an athlete can receive at the college and was also the team MVP in his graduating year.