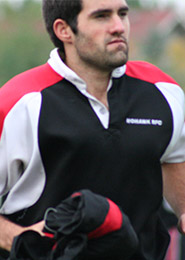 An alumnus of the Electrical Engineering Technology – Control program, James Cumpson was an athlete on the men's rugby team from 2006 to 2009. More than just a student-athlete, he embodied the true essence of a Mountaineer. 
Coach Alex Paris's Comments:
"As a team leader and men's rugby 8 man, James displayed a high level of sportsmanship at all times and was an excellent role model to both his teammates and the opposition. James would run a portion of the team's practice as the coach, and he did so with natural ease.  Players listened and gravitated around him. Any coach will tell you that having a player with a coach's mentality is an asset and one in which James fulfilled".
Upon James arrival in 2006, the men's rugby program went from being a competitive program to a perennially powerhouse for years to come. James won an OCAA Gold Medal (2006) and OCAA Bronze Medal (2008) with the team while being named an OCAA league all star in all three of his seasons. He was the OCAA scoring champion in his rookie season (59 points) while being awarded the Mohawk College Freshman Athlete of the Year. James is the current record holder for total conversions and points scored in a career for Mountaineer men's rugby.
Career Achievements
OCAA Gold Medalist (2006)
OCAA Bronze Medalist (2008)
OCAA League Scoring Champion (2006)
3x OCAA League All Star (2006-2008)
Mohawk College Freshman Athlete of the Year (2006/07)
Most Total Points in a Career (205)
Most Conversions in a Career (66)