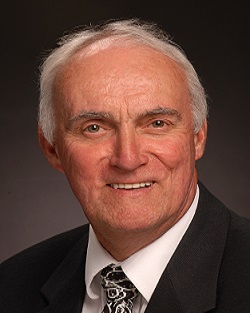 Laurie Cahill began his career at Mohawk College in 1985 as Manager of Varsity Athletics and Facilities.
Under Laurie's leadership, Mohawk achieved many successes in Athletics at the OCAA and CCAA levels. But none of those victories compared to the success and satisfaction Laurie received while mentoring, guiding and empowering young men and women in their successful athletic pursuits as well as onward in their careers.
Laurie was instrumental in spearheading Mohawk's first ever hosting of a CCAA national women's basketball championship in 1987, and this provided Laurie the opportunity to showcase the college and the city of Hamilton to teams from across Canada. Through his leadership, and dedication a very cohesive group of staff and volunteers worked tirelessly to put on the best show possible. This laid the groundwork for future CCAA hosting bids for Mohawk College.
An OCAA colleague of Laurie's had this to say about him, "Laurie is one of the most competitive people on the playing field but he always kept things in perspective and he knew that success is not always measured by wins and losses."
Laurie also dedicated his time and talents to the OCAA. He served for three terms on the association's executive and with various OCAA committees over the years including the Marketing Committee, Women's Sport Development Committee, and the Ways and Means Committee. Laurie was particularly passionate about his involvement with the Women's Sport Development committee and was always a big supporter of this initiative. The association inducted him into the OCAA Hall of Fame in 2003.
Laurie believed in partnering and cultivating relationships both on-campus and in the community. He built a lasting legacy in the athletics program and will always be known as someone who truly cares about and respects the people he represents.