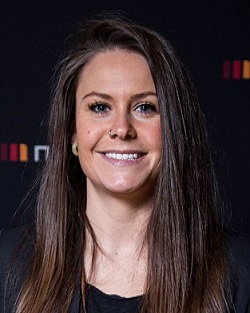 A versatile and gifted athlete, Leah Waxman competed for the Mountaineers in women's Volleyball from 2005 to 2010. During her five years, she assisted her team in capturing four OCAA bronze medals.
During her time on the court, she was a three-time OCAA League All Star. She was also an: OCAA Player of the Week, OCAA Tournament Player of the Game, OCAA Tournament MVP, OCAA Player of the Year, OCAA Central West Scoring Champion (2008), Team scoring leader and 3rd in OCAA scoring in 2009. In 52 games she earned 214 points, 187 kills, 23 aces, 4 blocks with an average of 4.12 points per game. Leah was also named CCAA All Canadian that year.
During her last year at Mohawk, Leah rose to the challenge and played Libero for most of the season due to a shoulder injury. Her perseverance and talent was recognized when she was honoured as a Tournament All Star at the Limoilou and Fanshawe tournaments and she was the OCAA Player of the Game for the match against Trent.
She was three-times named her teams MVP and was the Outstanding Female Athlete of the Year for 2008 and 2009.