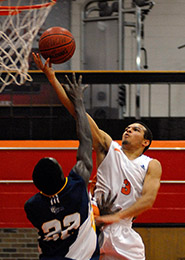 A graduate of the Civil Engineering Technology program, Manny Campbell was part of the men's basketball team from 2011 to 2013. Manny was a tremendous athlete which translated into a national championship during his two-year tenure as a Mountaineer.
Coach Brian Jonker's Comments:
"With all the great talent around Manny over his two years at Mohawk, he still stands out as an All-Canadian. His speed and explosiveness at the point guard position made him a nightmare for defenders to contain. On the occasions the team was struggling to score, the coaches would tell Manny to run full speed at the set defense and force the opposing team to react. Manny was the engine of Mohawk's National Championship team".
Manny arrived in 2011 as a seasoned veteran, here  he helped guide the men's basketball program to heights never before seen in Mountaineer basketball history, putting the men's basketball program on the national radar. During his two years, Manny's accolades speak for themselves. In his two years Manny had the following per game averages: 13.69 points, 5.2 rebounds, 4.2 assists and 2.9 steals. He was a CCAA Gold Medalist (2012), OCAA Gold Medalist (2012) and OCAA Sliver Medalist (2013) all while achieving multiple OCAA/CCAA league awards and a CCAA All-Canadian in 2013.
Career Achievements
CCAA Gold Medalist (2012)
OCAA Gold Medalist (2012)
OCAA Silver Medalist (2013)
CCAA All-Canadian (2013)
CCAA 1st Team Championship All Star (2012)
OCAA West Division Player of the Year (2013)
OCAA 1st Team League All Star (2013) 
OCAA 2nd Team League All Star (2012)
OCAA Championship MVP (2012)
Mohawk College Athlete of the Year (2012/13)