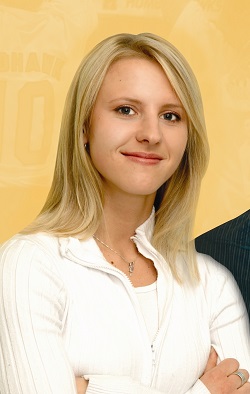 Margaret Myjak spent four seasons as a Mountaineer and was highly regarded as an athlete who embodied the Mountaineer spirit.
In 2005, her achievements were recognized when she was awarded the prestigious Dr. Sam Mitminger Award. In 2006 and 2007 she was awarded the Outstanding Female Athlete Award at the Athletics Banquet.
She was the 2005 OCAA Women's Singles Badminton Silver Medalist and an OCAA 2nd place finisher at the West Regional Cross Country Championship.
During the 2005-2006 season she was named the Team's Most Valuable Player for Badminton. She held the OCAA Badminton Record and won the OCAA Gold Medal for Badminton. She then capped off her season by capturing the Bronze medal at the CCAA Championships. That season she was the OCAA Player of the Year and a CCAA All Academic.
In her final year, Margaret was once again named the Badminton team's Most Valuable Player. She brought home an OCAA Silver medal for Badminton Singles, and was again named the OCAA Player of the Year and an OCAA and CCAA All Academic, a CCAA Player of the Month, and a CCAA All Canadian.
Margaret was an outstanding team player in both of her sports. Her lively personality and thirst to learn was a contagious combination. She is an excellent example of what a student athlete can achieve.