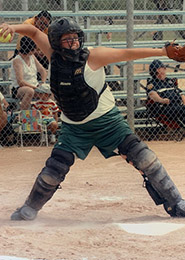 A graduate from the Police Foundations program, Shannon Glover was an athlete on the women's softball team from 2002 to 2004. Shannon's achievements during her two seasons on the diamond have been unmatched over the last 20 years.
Coach Brian Weller's Comments:
"Shannon was versatile as she played multiple positions on the diamond but catcher is where she flourished. She was best known for her offensive skills at the plate while stabilizing the catcher position. Shannon is one of the best hitters in the softball programs history. Shannon always saw the big picture for the program and left a legacy behind putting Mountaineer Women's Softball on the OCAA radar".
She graduated from the Mountaineer program setting multiple season and career records at the plate. From a statistical standpoint, her 2002-2003 OCAA Bronze Medal winning season is one of the best years ever by a Mountaineer Softball athlete. Shannon had a .532 batting average with 22 runs scored, 25 hits and 25 runs batted in. Shannon set the bar high for future Mountaineer softball athletes.
Career Achievements
OCAA Bronze Medalist (2002)
OCAA Bronze Medalist (2003)
OCAA Softball Athlete of the Year (2002)
OCAA League All Star (2002)
OCAA Top Hitter Award (2002)
Most RBI's in a Career (37)
Most Hits in a Season (25)
Most RBI's in a Season (25)
Most Runs Scored in a Season (22)