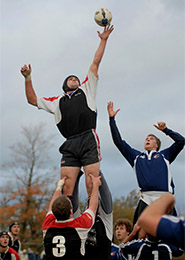 A graduate of the Mechanical Engineering Technology program, Steven Johnston was an athlete on the men's rugby team from 2006 to 2010. Steven's accolades and achievements over his four-year career speak volumes to his impact and legacy he left during the pinnacle years of the Men's Rugby program.
Coach Alex Paris's Comments:
"As the flanker and team captain, Steven's competitive nature made him an outstanding performer under pressure. While on the Mohawk Mountaineer men's rugby team, Steven was a goal-oriented, dedicated, and self-motivated individual.  His work ethic was outstanding, always rising to any occasion, and was at his best when his best was needed. Steven's on-field accomplishments are countless; winning multiple Mohawk and OCAA awards during his tenure".
The team hadn't won gold since 2000 when Steven joined the rugby squad in 2006. There is a distinct parallel to the success of the rugby program and his arrival as he went on to win three OCAA medals including OCAA Gold (2006) and OCAA Gold (2009) being named OCAA rugby athlete of the year during his gold medal winning season in 2009.
Career Achievements
OCAA Gold Medalist (2006)
OCAA Gold Medalist (2009)
OCAA Bronze Medalist (2008)
OCAA Rugby Athlete of the Year (2009)
OCAA League All Star (2009)
OCAA League All Star (2006)
Mohawk College Athlete of the Year (2009/10)
Most Tries in a Career (17)