Stay up to date with what's new in the Library!
Food For Fines
List of suggested items:
Peanut Butter
Cereal or Granola Bars
Body Soap or Shampoo
Baby Diapers or Wipes
Rice
Do you have library fines? Want to do some good while you clear them up?
The Mohawk College Library is holding a Food for Fines event starting the week of November 26th in support of the MSA Food Bank. Items will be accepted at the customer service desk at all libraries until Sunday, December 2nd. Each non-perishable item is worth $5 in fines and up to $20 in fines will be forgiven. Please note that this forgiveness does not apply to fines for lost or damaged items and that items may be refused at the discretion of staff.
Don't have any fines? You can still donate! Support your MSA Food Bank to help make the holiday season enjoyable for all!!
---
New Digital Creativity Centre
The Digital Creativity Centre is open for business! Located in the heart of The Joyce Centre at the Fennell Campus, and supported by the Mohawk Students' Association (MSA), this innovative and dynamic space is available to all students and features:
Library TECH BAR for technical support
Chromebooks and Laptops available for loan
Floor-to-ceiling Visualization Wall for showcasing interactive and dynamic presentations
Coming soon:
Makerspace with 3D Printers
Virtual and Augmented Reality area
---
New & Improved APA Guide
Check out our newly designed APA Guide containing examples of the most common types of in-text citations and references.
While your there, give us some feedback on the new guide by completing a short survey. Let us know what you think!
---
Library Workshop - Picktochart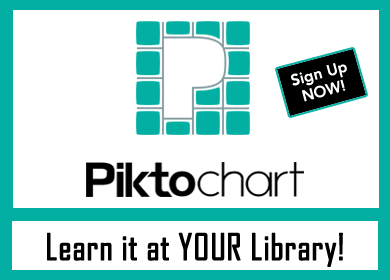 Get started with infographics using Piktochart. Infographics use a combination of images and text making it easier for people to connect and remember information. Piktochart provides all the tools necessary to create reports or presentations that can be shared on the web.
Sign up for a 45 minute session today!
---
Library Workshop - Adobe Spark
Spark Your Creativity! Using Adobe Spark, a free online tool, learn how to create professional looking graphics, web pages, or videos.
Sign up for a 45 minute session today!
---
Borrow a Bike
The Cummings library at the Fennell campus has bikes to loan to Mohawk College students and staff. They are all 21 gear mountain bikes. Frame sizes vary from 15 inches to 17 inches. Bikes and helmets can be checked out at the customer service desk.
Get the details on our Bike Borrowing page.