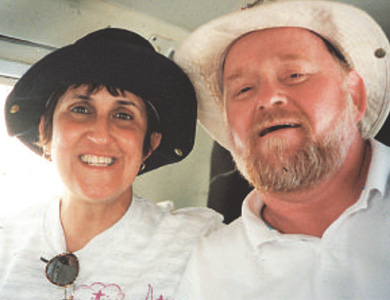 A Legacy of Infinite Curiosity and Generosity
Helen Lamping's estate gift is one that will continue the Lamping legacy of adult education at Mohawk College.
In 2007, at the age of 60, Helen completed a Disabilities Management course at Mohawk College. Well-known for her inherent curiosity to learn, Helen enjoyed studying at Mohawk and her time at the college helped her enhance her career.
Helen's passion for education was contagious. Her step daughter says that she made each of her husbands (Paul and Hugh) a better man, and she was instrumental in helping her husband Hugh achieve his dream of finishing high school. In 1997, with the support and encouragement of Helen, Hugh went back to school and eventually earned his high school diploma. "Adult education is one of the greatest things going," he said.
Committed to lifelong learning, Helen wanted to inspire others who were returning to school. Now, with her estate gift, she is fulfilling her wish of helping to make other's dreams of self-improvement through adult education a reality.
The Helen and Hugh Lamping Memorial Bursary was created to support mature students returning to Mohawk College.
If you're passionate about education like Helen, and you would like to learn more about how you can create a legacy of learning, please contact:
Gena Dureault
Senior Development Officer, Awards & Planned Giving
Mohawk College Foundation
Phone: 905-575-2208
gena.dureault [at] Mohawkcollege.ca (Email Gena)
Your legacy will help transform Mohawk Future Ready graduates of today into our leaders of tomorrow.
---
Charitable Registration # 11924 5744 RR0001