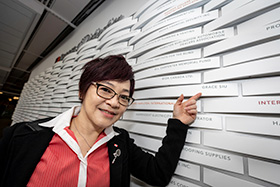 Mohawk Graduate, Grace Siu, arrived in Hamilton from Hong Kong in 1994 expecting to go to school, graduate and return home. Feeling so welcomed at Mohawk, Grace grew to love her new home and to this day lives only a few minutes down the road. A champion badminton player, Grace dominated the courts at Mohawk while also conquering the classroom!
Grace graduated earning a top student/athlete award. In appreciation of the time she spent at Mohawk, and to inspire more athletes to excel in school and in sport, Grace created an annual award that goes to a top student who participates in OCAA or CCAA sports.
Student athletes work hard in and out of the classroom, your support can help.