---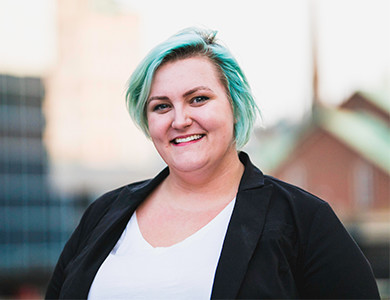 Photo credit: Matt Clarke
"Your donation may not seem like it's a lot but it really is. It is not inconsequential. Your support can change someone's life, like it did mine."

Mohawk grad, Andrea Pohlmann, has a familiar Mohawk story.
Before Mohawk, Andrea was enrolled in Political Sciences at a local university. She followed a path that many high school students follow: university was the best choice for post-secondary education. While there, she struggled. The learning environment wasn't suitable for her, her studies weren't fulfilling and it didn't provide a clear career path. She often skipped classes and focused a lot of her energy volunteering within the university's theatre clubs. Within a year, she was directing a musical and took charge of its marketing and advertising campaigns. She thrived in the hands-on environment where she could put her skills and passions to work.
After her second year, she decided university wasn't for her. She was interested in expanding her marketing and advertising skills she developed while volunteering. After taking a look at what programs Mohawk offered, Andrea became interested in the Advertising and Marketing Communications Management program. Between its great reputation within the industry and the hands-on learning environment she thrived in, she knew that it was the right choice. Andrea anxiously applied and was accepted. She was ready to start a new chapter of her life.

When Andrea came to Mohawk, she admits she felt out of place, as she was one of the older students in her program. Old habits made her think that skipping classes would be fine and soon her marks slipped. Weeks later, one of her professors reached out to her and provided words of encouragement. She was grateful for the advice and made a special effort to go to class and get involved. Andrea credits this conversation she had with her professor as something that motivated her to succeed.
While studying full time, Andrea worked part time to avoid taking on more OSAP. She worked at a variety of departments at Mohawk, including Sustainability, ONE Card and the Learning Support Centre through the Campus Student Employment Program.

Her strong work ethic was acknowledged by her professors. They nominated and encouraged her to apply to student awards. Within her three year program, Andrea received two awards. She received the Ad Club of Toronto 'Connector of the Class' Scholarship and the Mindshape Scholarship for Overall Excellence in Art Design. Both awards accredited her high academic achievements, dedication to her field, and leadership skills.
Andrea credits these awards to helping her sustain herself during those busy times. They helped paid rent, books and most importantly, helped her avoid going into further debt. She said receiving these awards was an honour and they changed her life for the better. In 2015, Andrea graduated with honours and has been working within the Advertising and Marketing industry.
Andrea's connection to Mohawk still runs deep. She often returns to Mohawk to volunteer as a mentor at Alumni events including From Backpacks to Briefcases. Andrea is also an active community volunteer, currently volunteering as the Co-Chair for Hamilton Hive, and as a member of YEP and volunteers for Habitat for Humanity. Andrea is still passionate about theatre. She is currently working on starting up her own volunteer based theatre company called "Land Mermaid Productions."
The Mohawk College Foundation is proud to work with partners like the Ad Club of Toronto and Mindshape Creative Marketing & Design Inc. to support Mohawk students like Andrea through the awards program.
For more information or questions about how you can support students like Andrea, please contact:
Gena Dureault
Senior Development Officer, Awards & Planned Giving
Mohawk College Foundation
Phone: 905-575-2208
gena.dureault [at] mohawkcollege.ca (Email Gena)
---
Charitable Registration # 11924 5744 RR0001