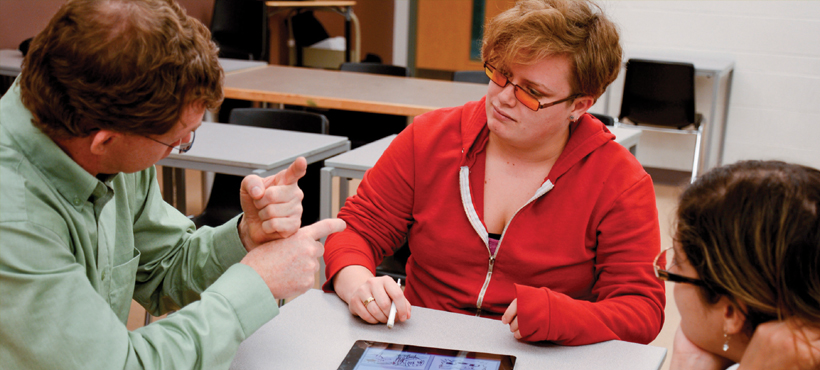 Mohawk College's free Academic Upgrading Deaf Empowerment Program (AU DEP) offers Deaf adults the opportunity to upgrade their skills in math, reading and writing as well as basic computer and employability skills.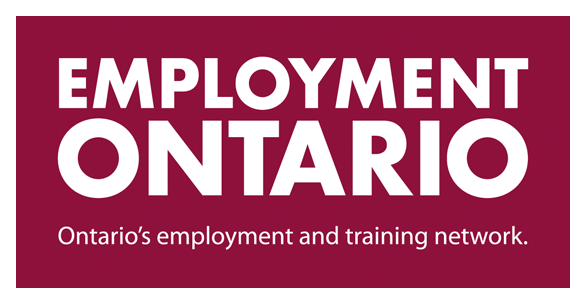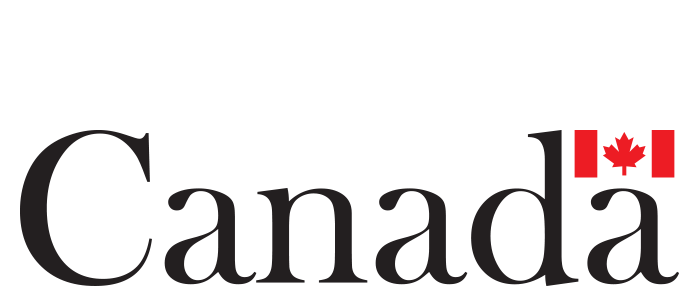 This Employment Ontario service is funded in part by the Government of Canada and the Government of Ontario and through the Canada-Ontario Job Fund Agreement.
Why Upgrade at Mohawk?
Mohawk College's Academic Upgrading Deaf Empowerment Program offers many benefits and opportunities including:
A Plan Designed Just for You
After an academic assessment and your one-on-one interview, your upgrading plan will be developed based on your goals and focused on exactly what you need to reach them.
College Environment
Our program is offered in the modern, well-equipped Fennell Campus of Mohawk College. You can immerse yourself in a thriving postsecondary environment.
Learn from qualified professors in a supportive setting.
Enjoy the added benefits of use of the Mohawk College library, cafeteria, and computers.
You'll be surrounded by a community of other motivated, friendly students.
Financial Support
Please note that as of January 1st, 2017, there will be a change in the Training Supports Policy.  Should you have any questions, please email dep [at] mohawkcollege.ca
The Academic Upgrading Deaf Empowerment Program is a FREE program! Financial support for daycare and/or transportation is also available for qualified learners. Please inquire at

dep

[at]

mohawkcollege.ca

Apply for, and earn points on, Mohawk's Future Ready Loyalty Card to help you pay for tuition if you should choose to enroll in a full-time Mohawk College program.
Flexible Schedules
Attend when you're ready! Start dates are flexible and are available throughout the September to June period.
Transition to Your College and Employment Goals
Attend lessons and workshops designed to support your academic and employment success.
Take advantage of academic resources such as access to information on How to Apply to College, Applying for Financial Aid & OSAP, and more.
Connect with Community Employment Services at Mohawk and register for workshops that can help you in your search for employment.
Want to Learn More?
Please contact us or visit for more information.

dep

[at]

mohawkcollege.ca

TTY: 905-575-2436
Voice: 905-575-2029
Drop in to Fennell Campus, room J011
Program Overview
Whether you're looking to open up exciting employment possibilities or to pursue postsecondary education goals, Mohawk's FREE Academic Upgrading Deaf Empowerment Program allows students the opportunity to improve their skills in these critical areas. AU DEP is taught in American Sign Language (ASL) by Deaf instructors in a student-friendly college environment.
Offered at no cost, program options include:
Grade 12 equivalency in Math & English
Employability skills
Upgrade skills in preparation for GED
Courses run by Deaf instructors and taught in ASL
Individualized programs
Learn and thrive in a welcoming environment
Flexible intake dates
The AU DEP program is designed for adults, 19 and over, who are:
Deaf, Hard of Hearing, Deafened

The classes and instruction are delivered in ASL by Deaf instructors
AU DEP is only available to Canadian citizens or permanent residents of Ontario
Applicants must go through an Academic Upgrading assessment process
Program Offerings
With a focus on raising Math and English skills to the college-entry level and to meet employment standards, we will create a customized learning plan taught in ASL to meet your needs and goals in the following areas:
English - Grade 12 Equivalency
Math - Grade 12 Equivalency:

Upgrading Business Math
Technical Math
Apprenticeship Math
Computers
Fundamental Computer Skills (for students taking one of the above subjects only)
GED Preparation
Academic Upgrading can help prepare you to successfully write the GED Test.
The GED – or Ontario High School Equivalency Certificate – is for adults who did not finish high school. The GED is recognized by many employers and training/education programs throughout Canada and the U.S.
More information on the GED is available on the Independent Learning Centre's (opens new window) website.
Apply Now
Information Sessions
We invite all students who meet eligibility requirements to apply for Mohawk's free Academic Upgrading Deaf Empowerment Program.
The Academic Upgrading program at Mohawk College is a FREE service for eligible students.
Mohawk holds AU DEP information sessions throughout the year, usually taking place in May/June before the program start date in September. In addition to providing detailed information and answering applicant's questions, in the same visit, we also conduct individual student assessments (see below for assessment details).
Program Information:
AU DEP operates between September and the end of June
Daytime Schedule – Classes are held at Mohawk's Fennell Campus and run Monday to Friday, 9:00 am to 2:30 pm
Program Costs – AU DEP is FREE for students who meet eligibility criteria
Financial Assistance for travel and/or daycare expenses is available for eligible learners
Admission Requirements and Eligibility
To be eligible for AU DEP:
Applicants must have reached mature student status (19 years or older)
Are Deaf, hard of hearing or deafened and who communicate using ASL (American Sign Language)
AU DEP is only available to Canadian citizens or permanent residents of Ontario
Applicants must go through an Academic Upgrading assessment process (details follow)
The Assessment Process
Assessment Process
Contact us at dep [at] mohawkcollege.ca to set up an intake appointment where you will take part in a one-to-one interview and assessment to ensure you meet the program's eligibility criteria.
Current or Previous Students
Welcome to the Academic Upgrading student satisfaction survey.
If you'd like to provide feedback on the Academic Upgrading at Mohawk College please complete our feedback survey. Please note all responses are anonymous to ensure identity protection.