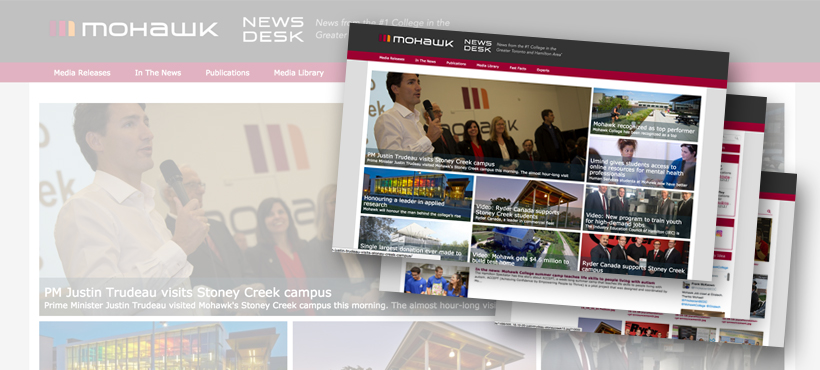 Mohawk NewsDesk
The Communications and Public Affairs department created Mohawk's NewsDesk - your access for up to date news and stories on Mohawk College. We share the success of our graduates, students, and faculty; ongoing campus investments, share stories from the news, communicate government announcements, and post Mohawk's media releases. Through a mix of written, photos, video and audio clips we always have a story to share.
Visit Mohawk NewsDesk →
On the NewsDesk, you can also access Mohawk's Book of Experts, Reports and documents, and our image and video library.
Members of the media who require more information about Mohawk are asked to contact:
Bill Steinburg
Press Secretary & Senior Communications Advisor, Public Affairs
905-575-2408
bill.steinburg [at] mohawkcollege.ca (bill[dot]steinburg[at]mohawkcollege[dot]ca)
About Mohawk 
Mohawk College educates and serves more than 32,500 full-time, part-time, apprenticeship and international students at three main campuses in Hamilton, Ontario and learning hubs across Hamilton through City School by Mohawk, and at the College's Aerospace Training Hub at Hamilton International Airport. Mohawk is among the top ten colleges in Canada for applied research. It has been named one of Canada's greenest employers seven years in a row, holds a GOLD STARS rating from AASHE for sustainability achievements and is home to the country's largest and first institutional building to receive dual certification for Zero Carbon Building Framework design and performance for The Joyce Centre for Partnership & Innovation. More than 130,000 people have graduated from Mohawk since it was founded