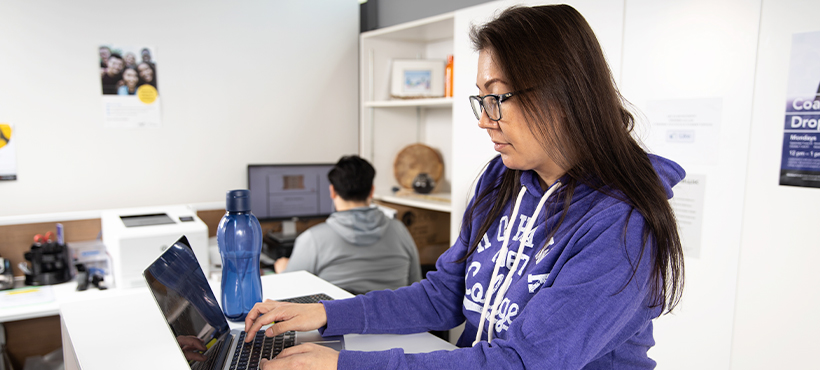 NEW! 
College-university partnership creates pathways for Indigenous education
Virtual support
Starting May 2nd, the Centre located in room A114 on the Fennell Campus will be offering limited in-person supports and services from Monday – Friday, 9:30am-3:30pm (closed 12:00pm-1:00pm). Team members will be available for appointments and drop-ins. More details on programming and activities will be sent via email and on the Indigenous Student Services webpages.
The team will also continue to be available virtually during the week 8:30 am - 4:30 pm.
Students are encouraged to book appointments with staff, for both in-person and virtual options, in order to ensure staff availability on any given date and/or time. 
We're looking forward to welcoming new and returning Indigenous students to the Centre!
Contact us
Our team members can be reached via their Mohawk College emails or iess [at] mohawkcollege.ca.
Stay connected
Check out our Indigenous Events Page for information on our Virtual Gathering Space sessions.
Check your Mohawk College email for details and Zoom links to stay connected with peers and staff.
More ways to stay connected
Stay connected with the Mohawk College community, and receive the most up-to-date information:
Discover Indigenous Education and Student Services
Land Acknowledgement
We acknowledge that Mohawk College is situated on the traditional territory of the Haudenosaunee and Anishnaabeg nations, within the lands protected by the Dish with One Spoon wampum agreement, and is currently home to many Indigenous peoples from across Turtle Island.
---
Contact us
Indigenous Education and Student Services
Phone: 905-575-1212 ext. 3428
or 519-759-7200 ext. 3428
Fax: 905-575-2236
Email: aess [at] mohawkcollege.ca (Indigenous Education & Student Services)
135 Fennell Avenue West
Hamilton, Ontario
L9C 0E5
Phone: 1-844-767-6871
Follow us