*As per Mohawk College policy, full (two-step) COVID-19 vaccination is required to attend City School in-person programs effective November 1, 2021. Formal exemptions may be requested; additional supporting documentation and screening requirements will apply.
 
Want to learn more about how Mohawk College is responding to COVID-19 and how to receive a vaccination? Visit Mohawk College's COVID-19 (Coronavirus) Updates Webpage
City School provides free post-secondary and employment courses to community members. You may qualify if you're 19+ with little to no post-secondary education. 
With free learning opportunities right in Hamilton neighbourhoods, you can get started on your journey to college or employment in a more comfortable, small classroom environment. 
Our Courses
Earn up to two free credits with us that apply to various programs at Mohawk College, or build your skills for post-secondary or employment through workshops in your neighbourhood! 
Information Sessions
Join us at one of our upcoming information sessions and learn more about courses being offered, how to apply, eligibility requirements and more! Registration is required.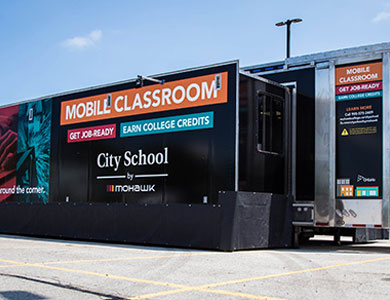 Connect with us 
Wondering if City School is right for you? Not sure if you qualify for a particular course or workshop? Reach out to someone on our team and we can help!  
Email: cityschool [at] mohawkcollege.ca
Call: 905-575-2489 for general inquiries or 905-575-2730 for Mobile Classroom or trades inquiries 
Benefits of online learning
Taking a City School course online provides the opportunity to learn online, anywhere and at your convenience! Study at home or at work on your schedule. 
Learn more about online learning
Other Services 
Looking for other services or information? Check out some of the other ways you can get started with Mohawk College!