So, I may be an older tree in the alumni forest (class of '78), but I am still able to get bendy with the best! Mohawk's weekly yoga class led by Linda Rourke '90, is a roundup of all that makes us feel good, as she told us it would! 
There is more pleasure than pain in stretching my limbs as I return to my Mohawk roots. The noon-time class delivers a sweet and sweaty convergence of mindfulness and yoga; it's like a drive through tune up for your body – a quick 45 minutes via zoom. 
I log on, thousands of miles away in Edmonton, where the Wild West ticks two hours behind.  
So why slip on your stretch pants and join? 
Ask any health practitioner or even my know-it-all friend, Google about the importance of stretching, a big part of yoga. It unites the body, mind, and breath and is all about building strength, balance and flexibility. 
I'm happy to attest that yoga combats stress and keeps us centred making us ready to enjoy the simple pleasures in life, like walking a dog. The yoga class is preceded by a meditation class which includes beautiful, strong leaders and committed participants all round.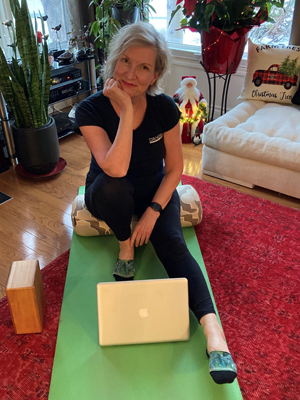 As acting director of Mohawk College Foundation, Linda may be juggling more balls than Cirque du Soleil, but when she hops on the call she has a peaceful, easy vibe. And she trusts us. All participants have their computer cameras off, while Linda welcomes us into her private space - complete with a yogi cat and dog who wander around her mat while she stays on track. 
One of my favourite sessions was watching in awe as Linda, pressed for time, led a class from her parked car, offering seamless instruction on how to assume our positions, without missing a beat. 
So, now back to that word "trust." 
Linda, you know that extra-long and strong tree pose you masterfully steer us into? 
Well, um, how do you know that we aren't actually shaking martinis in our pj's? 
I know, it's because as David Henry Thoreau said, "I took a walk in the woods and came out taller than the trees." 
Thank you, Linda, and Mohawk! 
Kudos for offering free yoga and meditation to alumni and employees! It makes a difference. 
Interested in attending an upcoming yoga session? Register today!
---
By June (Meeboer) Ross '78, Radio Broadcasting 
Alumni News and Stories
Sharing his passion for supporting students, Past President McIntyre has established a new challenge. Past Mohawk President (1976-1996), Keith McIntyre, was browsing Facebook one day when he saw a post about a Mohawk College Foundation gift catalogue. The initiative, created by Mohawk College...
The past year has seen a lot of changes for Mohawk's athletics program.​ No OCAA season, no in-person training and very minimal in-person learning… the 2020-2021 academic year has been different and difficult for many student-athletes. Despite the challenges and changes the past year has brought to...
In 2021, the Class of 1971 will celebrate their 50th anniversary. The year is 1971. Starbucks pours its first cup of coffee. Willy Wonka and the Chocolate Factory and a Clockwork Orange hit theatres. Paul McCartney releases his second solo album. FedEx sends their first package. The Pentagon Papers...