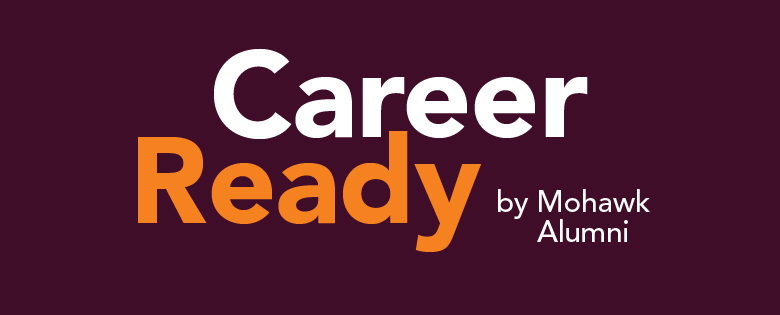 The Career Ready webinar series helps students and recent graduates develop personal and professional skills that assist with transitioning into a successful "Life after Mohawk". These interactive and informative webinars support the development of important soft skills, which are not traditionally learned in classrooms. 
Spring Webinar Series - Recorded June 2021
All webinars will be recorded and shared after the event. 
Cover Letter and Resume Writing | Recorded June 3
Your cover letter is a personal introduction -it tells the employer who you are and why you want to work for their company. Learn how to write a brief yet compelling cover letter that will leave the employer craving more information. 
Discover the workings of an acceptable resume and learn how to articulate your talents and experiences effectively. Your resume is an opportunity to demonstrate to the employer that you have what it takes. Learn how to make it count!
Register for the June 3 webinar recording
Interviewing in Today's World | Recorded June 9
Learn the ins and outs of job interviewing! Feel confident in job interviews and improve your chances of getting hired through proper preparation. This webinar will cover how to dress, speak, what your background should be for virtual interviews and so much more!
Register for the June 9 webinar recording
Succeeding at the Workplace | Recorded June 16
Learn how to work well in Canada by projecting a professional image and understanding your workplace culture.
Register for the June 16 webinar recording
Financial Life After College | Recorded June 22
Join us to learn practical tips for improving your financial wellness as you look ahead to life after college. This webinar presentation by Mo'Money will cover: 
Learning What You Can Afford: budgets and debt management 
How to find your student loan information
Ways to reduce your overall borrowing costs after college
Providing visibility into current and projected loan indebtedness
Sources for diversifying funding options for a post-grad program
Register for the June 22 webinar recording
---
Enjoy watching a recorded webinar by IDEAWORKS
Applied Research Webinars
Scholarship of Teaching and Learning Webinars
Interested in learning more about research at Mohawk College? Feel free to get in touch with the ideaworks [at] mohawkcollege.ca (IDEAWORKS) team. You can also keep up to date with IDEAWORKS on LinkedIn .