Mohawk College and our alumni are finding ways to make a difference during this challenging time. If you have a good-news story to share about a Mohawk alumni please send it to alumni [at] mohawkcollege.ca.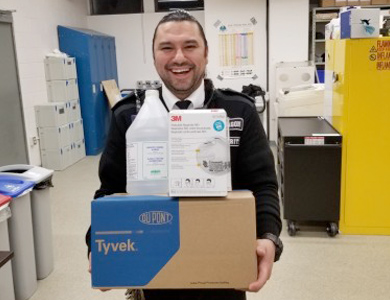 Mohawk donating medical supplies to healthcare providers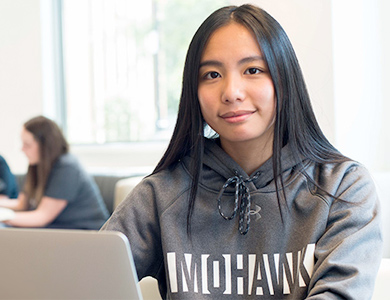 Give the gift of education.
More stories of Mohawk students, alumni and employees
Connecting Hamilton through event planning
May 1 , 2020 - While working the Hamilton-area comedy circuit, Broadcasting-Radio grad Matthew Surina '08 got an idea. He could use the connections he was developing and the knowledge he was obtaining to create his own event management business.  As COVID-19 began to spread in mid-March 2020, things changed for Matthew and his business. Continue reading on the alumni blog.
Mohawk Nursing grad finds comfort from patients, fellow hospital staff and community support while working on frontlines of COVID-19 
April 23, 2020 - When considering his career choices, Carter Rudge '18 knew two things for sure. First, he wanted to work with people and second, he didn't want to work in an office. Influenced by his aunt who worked as a nurse when he was younger and went on to become a doctor, Carter saw a career that would meet his needs. Continue reading on the Alumni blog.
Mohawk alumnus started helping homeless during COVID-19, one week after retiring
April 22, 2020 - The day Paul Logan, Child Care Worker '80, delivered his first sandwich was supposed to be his last day of work before he retired. He was set to enjoy retirement before the COVID-19 pandemic swept across the globe and felt inspired to help out those in need. Now he is making sandwiches for the homeless during the public health care crisis. His story was told by The University of Victoria's independent newspaper, Martlet.
Mohawk Music grad gets creative with his lessons during COVID-19 days
March 23, 2020 - Mohawk Music alumnus Ric Denis ('91) is promoting music lessons and social distancing during the COVID-19 outbreak by moving his instruction online. Sound familiar? Denis, who is based in Mississipi Mills, had an article promoting his services published in an online community news site, The Millstone News.
"Now is when it's most important to maintain a normal life as much as possible," he says in the article.
Mohawk professor part of a wave of neighbourhood activities in a time of social distancing
March 23, 2020 - Mohawk College Electrical Engineering professor, and supportive dad, Stephen Eagle and his family were recently featured in a Hamilton Spectator feature about neighbourly activities going on around St. Patrick's Day while practicing social distancing.
Mohawk Plumbing instructor promotes better bathroom behaviour
March 27, 2020 - People are staying and working at home these days. And millions of more wet wipes are being used as we practice safe hand hygiene. And this has created a potential problem. The Weather Network recently called on Plumbing Professor and Coordinator, Seth Crawford, from The Marshall School of Skilled Trades & Apprenticeship, to explain why no one should flush wipes down the toilet.