At Walters Group Inc., Mohawk Alumni are in every shop and department where they get to connect and share their Mohawk College pride every day.
By Emmett Steele '22
For many years, Mohawk College and Walters Group Inc. have worked together closely to help the next generation of skilled tradespeople grow and become the best that they can be. As a Mohawk College Future Ready Premium Employer, Walters Group Inc. provides on-the-job training to students in many skilled trades programs through co-op work terms, part-time job opportunities and apprenticeships.
"I got a job at Walters Group right away from [the part-time job opportunity] that I did while at Mohawk, and I've been there ever since," said Kaylyn Roloson '15, Quality Control Inspector at the Rymal Road location of Walters Group Inc. "It's been almost seven years since I've been here. I've had a really good experience so far."
Walters Group Inc. is a family-owned steel construction company. They design and create structural projects across North America, some of which you may recognize. "We're building bridges, highrises, museums, anything structural, and we're building out of steel," said Kaylyn. "When I first started, we were working on a parliamentary building. It was meant to be a temporary House of Commons while they renovated the original."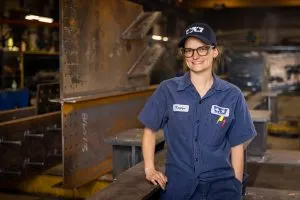 Kaylyn has had to work her way up to her current position of quality control inspector, and Walters Group has helped her every step of the way. "They signed me up for my apprenticeship right away as a fitter welder for metal fabrication," she said. "I did that once a week for two years and finished my apprenticeship for schooling, wrote my Red Seal, and eventually passed."
As a Mohawk graduate, Kaylyn is in good company at Walters Group Inc. Not only does the company provide co-op work terms and part-time job opportunities for many students, they also often hire those students after graduation. "In the shop that I'm working in, I think there are five others that came from Mohawk," said Kaylyn. "I think we hire from Mohawk every single year. It's really nice to continue to see [Mohawk grads] getting hired."
One of those fellow Mohawk alumni is Mateusz Kardasz '18, a structural detailer who works for the Feature Walters wing of Walters Group. "Feature Walters first started as a different company, but Walters brought it on, and it covers all of the high-end structures we create," said Mateusz. "I create drawings and details, fabrication drawings."
"Walters is basically all Mohawk College... the CEO went to Mohawk College. One of my good friends went to Mohawk, we graduated the same year, and he sits right across from me at work. Another Mohawk alumni sits behind me. It's all Mohawk College, all around. It's a great feeling, it feels like home." – Mateusz Kardasz '18
"We designed the Louis Vuitton façade in Toronto, and the Tommy Hilfiger staircase in New York City," he said. "It's very high end and more architectural structural based." According to their website, Feature Walters, creates features that "put the final architectural flourish on a signature construction" with things like spiraling staircases to unique metal work to sculptures and art.
Mateusz creates fabrication drawings and details, and according to him, his best project yet is the one he's working on now in Ottawa. "It's called West Memorial. It's for the Supreme Court of Canada," he said. "We're building a spiral staircase that spans two floors and has a glass elevator going through the middle." Mateusz started working with Walters Group earlier this year, and he's thankful for his time spent there so far. "Walters Group is hands down the best company I've ever worked for," he said. "They're very into your growth, making sure when you start that you understand everything and that you can go to anyone you want for help. It could be the CEO, it could be colleagues, it could be anyone."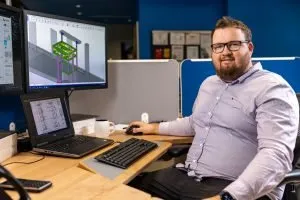 He feels part of that camaraderie stems from how many Mohawk alumni work at Walters. "Walters is basically all Mohawk College," said Mateusz. "The CEO went to Mohawk College. One of my good friends went to Mohawk, we graduated the same year, and he sits right across from me at work. Another Mohawk alumni sits behind me. It's all Mohawk College, all around. It's a great feeling, it feels like home."
Mateusz believes the time he spent at Mohawk really helped to prepare him for his career with Walters. "Mohawk was an amazing school, I really enjoyed going there and I was very thankful for an opportunity for co-op," he said. "I don't really see many programs like Mohawk College that teach the software I use on a daily basis, TechBook. Learning software that can't be accessed [easily] outside of school was one of the most advantageous parts of Mohawk College."
Kaylyn is also thankful for the college and the work experience opportunities it provided. "If I didn't go to Mohawk I wouldn't have gotten a job at Walters, not right away at least," she said. Because of the co-op opportunity, Kaylyn was able to get her foot in the door at Walters more quickly. "That was really important," she said.
Through Kaylyn's Mohawk education and her continued learning at Walters, her educational career has come full circle. "I taught my first class in February," said Kaylyn. "I was asked to teach a welding class at Mohawk College. It was a level one millwright welding course. It was a big challenge because I'm not on the tools anymore as an inspector, so I had to refamiliarize myself with welding again, as well as teach the students."
While Kaylyn may have started teaching, that doesn't mean she's done learning. "There are a lot of different opportunities in welding," she said. She tries to instill her passion in the colleagues she oversees at Walters, and she has the same advice for students as she does for her colleagues: "Don't ever stop asking questions," said Kaylyn. "Continue to challenge yourself. Be open to learning new things, because you're never, ever going to know everything about your trade. That's the key thing about being a tradesperson, there's so much to learn, and I keep learning every single day to be the best I can be."
This story originally appeared in the print issue of Fall 2022 InTouch magazine.
Alumni News and Stories
By John Jonaid, 1st semester Journalism student As a graduate, you are a valued member of our Mohawk College community. Your knowledge, skills, and experience can make a real difference in the lives of current students. Mohawk offers numerous volunteer positions that provide alumni with...
By John Jonaid, 1st semester Journalism student Hamilton is facing a crisis as the number of skilled-in-demand workers in the market is declining. To respond to this crisis, Mohawk College has taken an ambitious step with the launch of Challenge 2025. This five-year workforce-recovery initiative...
By John Jonaid, 1st semester Journalism student Mohawk College empowers students to positively impact their community through the innovative Campus to Community program. With a focus on hands-on, real-life experiences, students can apply what they learn in the classroom to their community. It helps...