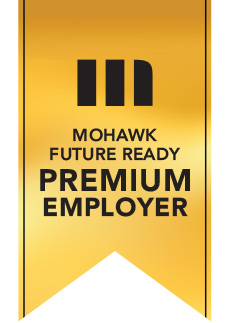 College-student-employer relationship redefined
We've joined forces with 10 leading employers in the Hamilton Region to create a new program designed to more actively engage industry and community partners in the training of job-ready college graduates.
Benefits to our partners and the broader community
Greater access to student and graduate talent
Customized industry training solutions
Preferred engagements with students and alumni
Early involvement in program development and design
Opportunities to contribute to specialized Mohawk-led community programs
Benefits to students and alumni
New learning modules to support career development throughout their program of study
Early exposure to significant employers in the region
New experiential learning and applied research opportunities;
Opportunities to explore company-specific jobs prior to graduation
Post-graduation job search advising and support
Featured Future Ready Premium Employer: KF Aerospace
For over half of its 26-year history, KF Aerospace's partnership with Mohawk College has helped keep its corporate, commercial and military customers flying high. Mohawk Maintenance and Aviation Technician students and alumni — who benefit from experiential learning opportunities alongside KF's certified tradespeople — are integral in KF's provision of innovative aviation solutions. Today, over 25 Mohawk alumni actively contribute to KF's continuing success.
KF's $30-million expansion of its Hamilton facility recently strengthened our holistic relationship. Home to the Mohawk College Centre for Aviation Technology, the immersive space allows us to double our enrollment capacity, complementing KF Hamilton's anticipated growth from 150 employees to 425 in the next four years.
Previously Featured Future Ready Premium Employers
Build your exceptional workforce
Contact us - we're here to help connect you to the Mohawk community.