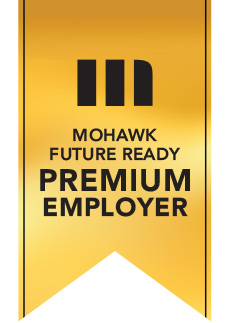 College-student-employer relationship redefined
We've joined forces with 10 leading employers in the Hamilton Region to create a new program designed to more actively engage industry and community partners in the training of job-ready college graduates.
Benefits to our partners and the broader community
Greater access to student and graduate talent
Customized industry training solutions
Preferred engagements with students and alumni
Early involvement in program development and design
Opportunities to contribute to specialized Mohawk-led community programs
Benefits to students and alumni
New learning modules to support career development throughout their program of study
Early exposure to significant employers in the region
New experiential learning and applied research opportunities;
Opportunities to explore company-specific jobs prior to graduation
Post-graduation job search advising and support
Featured Future Ready Premium Employer: L3Harris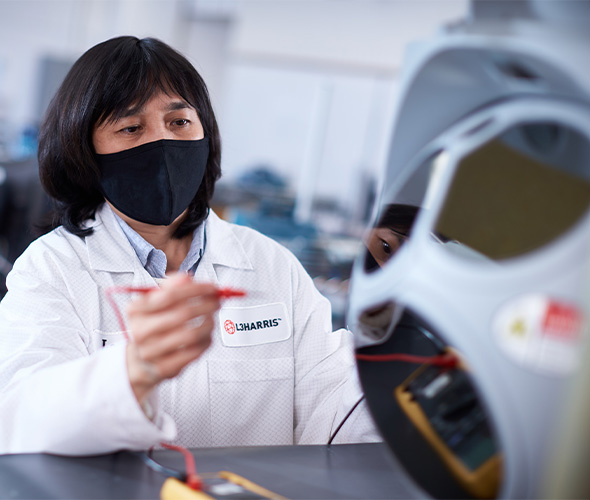 As Hamilton's community college, Mohawk College's mission is to build and qualify a skilled workforce that local companies rely on to be future ready. L3Harris Technologies, known worldwide for its WESCAM MXTM-Series electro-optical/infrared (EO/IR) products and in-service support, has Mohawk College Alumni working in nearly every area of the company.
The journey began at the Westinghouse factory in Hamilton, Ontario in 1957, where WESCAM camera systems were developed for defence surveillance, funded by the Department of National Defence. 
The history of L3Harris is deeply rooted in the Hamilton community. This summer, the company will come full-circle back to Hamilton, a few blocks from L3Harris' (previously WESCAM) office headquarters in the 1970s, where they will continue to service over 100 countries around the world.
Mohawk College, established in 1967, has had a similar road of growth and success, becoming one of the top colleges in Canada and attracting thousands of talented students from around the world.
Currently, there are over 150 Mohawk College-trained employees working in various departments at L3Harris. From electrical and mechanical engineering technicians to planning and support, including project management, marketing, operations and finance, Mohawk alumni can proudly say they are contributing to L3Harris' ongoing success. 
The relationship between the company and the college extends beyond a labour-supply association. L3Harris co-operative opportunities and scholarships, such as the Canadian Industrial Leadership Award, provide exposure to projects and mentorship to satisfy academic requirements and develop leadership skills.  The company collaborated with Mohawk College Enterprise for employee training, and it supports the involvement of company leaders on program advisory committees to help shape the delivery of programs at Mohawk. L3Harris has also made generous contributions to Mohawk student success through equipment purchase, bursaries and scholarships.
As a Future Ready Premium Employer, the connections between L3Harris and Mohawk College are bound to become stronger moving forward, rooted in growth, success and a shared commitment to the Hamilton and surrounding communities.
 
L3Harris and Mohawk College fast facts:
150 Mohawk graduates employed
6 Co-op and student placements last year
Research partner in applied research projects
Academic partner with participation in Program Advisory Committees
Meet the Mohawk graduates who work for L3Harris
Hear from some of our Premium Employers about hiring Mohawk graduates and co-op students
Learn more about Mohawk's Future Ready Premium Employer Partners and how we have redefined the college-student-employer relationship. 
Previously Featured Future Ready Premium Employers
Build your exceptional workforce
Contact us - we're here to help connect you to the Mohawk community.