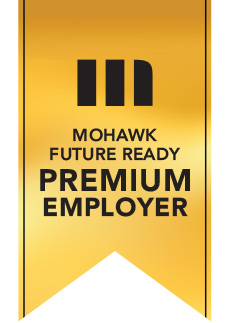 College-student-employer relationship redefined
We've joined forces with 10 leading employers in the Hamilton Region to create a new program designed to more actively engage industry and community partners in the training of job-ready college graduates.
Benefits to our partners and the broader community
Greater access to student and graduate talent
Customized industry training solutions
Preferred engagements with students and alumni
Early involvement in program development and design
Opportunities to contribute to specialized Mohawk-led community programs
Benefits to students and alumni
New learning modules to support career development throughout their program of study
Early exposure to significant employers in the region
New experiential learning and applied research opportunities;
Opportunities to explore company-specific jobs prior to graduation
Post-graduation job search advising and support
Featured Future Ready Premium Employer: Thrive Group
Thrive Group and Mohawk College share a common ambition to support the health and well being of the regional community. And we share a common goal to train and sustain a skilled workforce for tomorrow's healthcare sector.
Mohawk graduates from allied health programs such as, Nursing, Practical Nursing, and Personal Support Worker, contribute to the Thrive Group's success in providing a spectrum of integrated services to support and care for individuals to live as independently as possible.
Thrive Group handles the operation of four member healthcare organizations: AbleLiving Services, Capability Support Services, Idlewyld Manor and St. Peter's Resdience at Chedoke. As well as, administrative support for a dozen more. Well-trained and job-ready Mohawk College graduates are part of that success.
100+ Mohawk graduates employed
Co-op and student placements every year
Academic partner with participation in Program Advisory Committees
Partner in Mohawk College Enterprise and City School training programs
Supporter of student success through annual scholarship
Previously Featured Future Ready Premium Employers
Build your exceptional workforce
Contact us - we're here to help connect you to the Mohawk community.