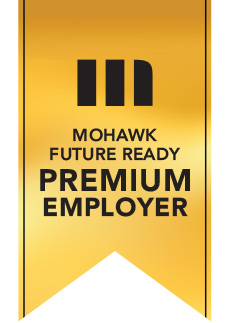 College-student-employer relationship redefined
We've joined forces with 10 leading employers in the Hamilton Region to create a new program designed to more actively engage industry and community partners in the training of job-ready college graduates.
Benefits to our partners and the broader community
Greater access to student and graduate talent
Customized industry training solutions
Preferred engagements with students and alumni
Early involvement in program development and design
Opportunities to contribute to specialized Mohawk-led community programs
Benefits to students and alumni
New learning modules to support career development throughout their program of study
Early exposure to significant employers in the region
New experiential learning and applied research opportunities;
Opportunities to explore company-specific jobs prior to graduation
Post-graduation job search advising and support
Featured Future Ready Premium Employer: Walters Group Inc.
For more than half a century, Walters Group and Mohawk College have both flourished and grown in the Hamilton Region. As a home-grown, family-owned company, Walters is deeply engaged in the community and is equally engaged with its community college. 
Walters supports Mohawk students in their education through student training, co-op placements and apprenticeships. The company connects with students at campus industry events, advises on program development and provides scholarships. And Walters Group is keen to hire Mohawk College graduates. 
Mohawk graduates can be found welding and fitting in the shops, designing projects in the office, managing projects for installations around the world and keeping materials moving through the system and to the customer. 
With Mohawk alumni employed in all aspects of Walters Group operations and with Walters active at all levels of engagement at Mohawk, this successful partnership ensures the college, the company and the community can all grow together.
14 Mohawk graduates currently employed
Strong supporter of co-operative education and Mohawk apprenticeships
Active research partner in applied research projects and a number of industry projects, as well as CityLab 
Academic partner with participation in Mohawk's Program Advisory Committee program
Partner in Mohawk College Enterprise and City School training programs
Supporter of student awards
 
Previously Featured Future Ready Premium Employers
Build your exceptional workforce
Contact us - we're here to help connect you to the Mohawk community.