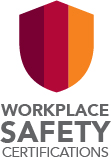 Downloadable Certificate(s) of Completion
From health care to construction, manufacturing to maintenance, workplace safety is required across many industries and is essential for both employers and employees.
Designed for working professionals needing recertification, or those looking for an advantage when applying for a job, many of our safety courses and certifications are offered in a flexible, engaging online environment. We offer a selection of these stand-alone courses each term.
Mohawk College offers online training and certification courses in workplace safety, including: Basic Electrical Safety, Slips, Trips, Falls, WHMIS 2015 and many more.
If you have any questions about these certifications, please email us!
---
Additional training can be obtained through the Occupational Health and Safety Management Certificate.
Mohawk also offers in-class Working at Heights Certification / Recertification and CPR / First Aid courses.
Visit our Workplace Safety Certification course list to view available courses.
After you register, you will receive information at your Mohawk College email address on how to access your course. A downloadable certificate of completion is available upon successfully completion of the course.