Wendy Rolfe - Office Administration, 1986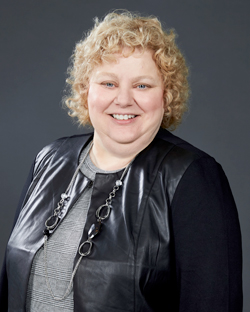 Affinity Recipient
Senior Manager, Student Services and Special Projects, MSA
Wendy Rolfe has dedicated her career to helping Mohawk students have a positive and successful educational experience. Since 1987, Rolfe had filled various roles for the Mohawk Students' Association (MSA), and in 2017, she was promoted to her current role as Senior Manager of Student Services and Special Projects. In her 31 years with the organization, Rolfe has met the needs of every student who has come her way with empathy and consideration as she works to find a solution for each of them. In recognition of her esteemed role at the school, Rolfe was awarded the MSA's Award of Excellence. Since 1993, she has volunteered with Kin Canada, a service organization made up of dedicated member volunteers who work to better their communities, enhance the well-being of Canadians and improve the environment. In 2010, Rolfe was awarded Kin Canada's highest honour, the Life Membership Award.
Dr. Beverly Jacobs - Office Administration Legal, 1985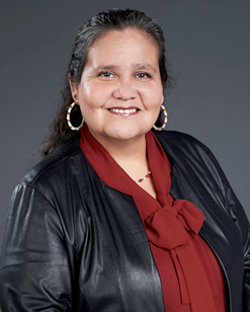 Business Recipient
Assistant Professor, University of Windsor, Faculty of Law
Barrister & Solicitor
Dr. Beverly Jacobs has made remarkable strides in advocating for Indigenous peoples, especially Indigenous women in Canada. She earned a Bachelors of Law from University of Windsor (1994), a Masters of Law in International Law from the University of Saskatchewan (2000) and while completing her Masters of Law degree, she launched Bear Clan Consulting in Ohsweken, where she grew up. She was called to the bar in Ontario in 2003 and transposed her consulting business into her law practice. In August, 2018, she completed a PhD in Indigenous law, health and research methodologies at the University of Calgary. Dr. Jacobs assisted in researching and writing Amnesty International's groundbreaking report, Stolen Sisters, on missing and murdered Aboriginal women in Canada (2004) and spent two terms as elected President of the Native Women's Association of Canada (2004-09). Dr. Jacobs is the recipient of numerous awards, notably, member of the Order of Canada (2018), the Franco-German Prize for Human Rights and the Rule of Law (2016), the Circle of Honour Esquao Award from the Institute for the Advancement of Aboriginal Women in Edmonton (2010) and the Governor General's Award in commemoration of the Person's Case (2008). She practises law part-time from her office on the Six Nations Grand River Territory, and in July 2017, she returned to the University of Windsor, Faculty of Law as an Assistant Professor.
Valya Roberts - Recreation Leadership, 1986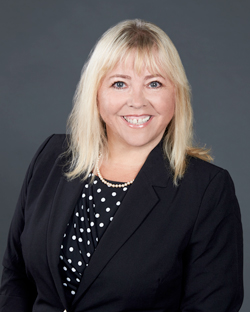 Community Services Recipient
Executive Director, Brantford & District Supervised Access (Dalhousie Place)
Valya Roberts is a consultant, activist, teacher, researcher, playwright, published author, and a tireless advocate for children and families. Since 1998, she has been the executive director of Dalhousie Place, a community-based organization in Brant, Haldimand Norfolk providing access services to children and families experiencing high-conflict separation and divorce. As an expert in her field of supervised access, Roberts is a consultant to the U.S. Justice Department, Supervised Visitation Network, First Nations including Six Nations and New Credit and the Ministry of the Attorney General, and is also the Chair of the Research Ethics Board at Mohawk College. She has won many awards, including the Governor General's of Canada Gold Medal and the President's Gold Medal from Nipissing University. Roberts was recognized for her service by the Ministry of the Attorney General and won the Supervised Visitation Network (International) 2013 Hedi Levenbach Award for Dalhousie Place.
Maggie Fox - Broadcasting – Television & Communications Media, 1993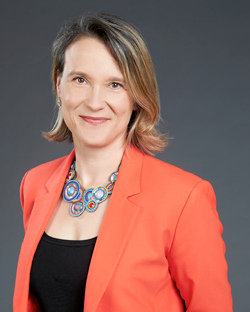 Creative Arts & Design Recipient
Chief Marketing Officer, Globoforce
Maggie Fox has been a digital pioneer since 2006, when she founded Social Media Group, the world's first pure-play social media agency. Currently chief marketing officer at Boston-based Globoforce, Fox drives global marketing efforts, including brand and category growth, demand generation, digital and field marketing, communications and analyst relations. Fox previously served as CMO of $2 billion data-driven loyalty firm Aeroplan and as Global Senior Vice President of Digital and Content for enterprise software giant SAP. A seasoned digital transformation leader, Fox was named one of Canada's Top Innovators and Marketing Magazine included her in their list of the 100 most influential marketers of all time. She sits on the boards of The Heart and Stroke Foundation and the Ryerson DMZ, which was recently named the world's #1 University-affiliated startup incubator.
Paul Lloyd - Business Administration, 1972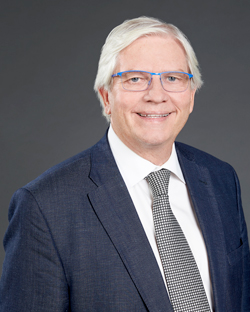 Entrepreneur Recipient
CEO, The PasWord Group
Paul Lloyd is President and CEO of The PasWord Group Inc., a Hamilton-based firm with two distinct operating divisions – PasWord Protection Services Inc. designs, installs, services, and monitors a variety of security products including intrusion alarms and video surveillance systems. Clients include City of Hamilton, City of Burlington, Hamilton, Halton and Niagara Boards of Education, and Crimestoppers. AnswerPlus is an inbound call centre that specializes in urgent call response services. Customers include Suncor, Hospital for Sick Kids, US Embassy, OMA, Thyssen Kruppe, and Unicef. Under Lloyd's direction since 1971, The PasWord Group has grown to over 300 employees with offices in Hamilton, Toronto, Montreal, Edmonton and San Antonio. Paul Lloyd was one of a small group of individuals who worked with the Canadian government in the early 80's to bring cellular technology to Canada and was one of the original 5 shareholders in Rogers Communications. He is a founding sponsor and board member of An Instrument for Every Child (AIFEC), an initiative of the Hamilton Music Collective. AIFEC's goals are empowerment and accessibility and to enable all children to experience the joy and benefits of playing music, regardless of socioeconomic status.
Janice Dusek - Nursing, 1975
Health Sciences Recipient
CEO, JD & Associates
Janice Dusek is a registered nurse, a senior leader, an executive, an innovator and trailblazer at the forefront of change in health care. She has held many senior leadership positions within the healthcare sector including Chief Operating Officer at Lakeridge Health, Executive Vice President and Chief Nurse Executive at St Michaels Hospital and Vice President Strategy and Chief Nursing Executive at Ontario Shores Centre for Mental Health Sciences. She has also been a staunch supporter and board member of the Registered Nurses Association of Ontario. In 2011, she founded JD & Associates, a professional consulting practice that specializes in strategic planning, operations improvement, health system renewal, board governance, as well as planning and facilitating organizational and system change. Also in 2011, Dusek started a part-time faculty position at McMaster University in the Faculty of Health Sciences for the School of Nursing, teaching students in a combined program with Mohawk College. She is passionate about improving the health status of those who are marginalized in our communities and supporting women in leadership positions. Since 2012, Janice has served as a board member for the Scarborough Centre for Healthy Communities, a social services organization/community health agency, with the last 2 years serving as President.
Gabriela Covaci - Career Consultant Certificate, 2010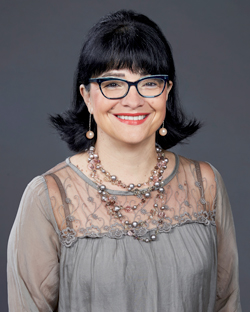 Mohawk College Employee Recipient
Gabriela Covaci arrived in Canada in 2003 from Romania with a Bachelor of Science in Chemistry and an MBA. Yet, in spite of her educational background, she could only find a minimum wage job. It wasn't enough for Covaci—she decided to go back to school and has never looked back. As an employment consultant, she works closely with youth, adults, newcomers and internationally-trained professionals to overcome barriers to employment. Covaci is also an instructor with the Faculty of Continuing Education at Mohawk College and an International Language Teacher with the Halton and Hamilton District School Boards. She has won two YWCA Women of Distinction Awards for community leadership and is a recipient of the 2017 RBC Top 25 Canadian Immigrants Award. Most recently, Covaci became chair of the Halton Newcomer Strategy Project, an advocacy team that engages the community to empower newcomers to Halton.
Maria de Castro Santos De Tina – Occupational Therapist Assistant/Physiotherapist Assistant, 2015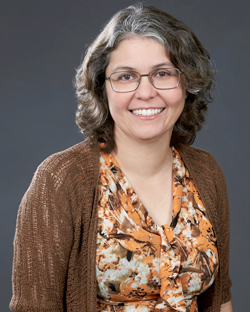 Recent Graduate Recipient
Brantford General Hospital
Maria de Castro Santos De Tina became a Canadian citizen in 2017, six years after moving to Canada from Brazil. In addition to her studies at Mohawk, Maria earned credentials in her home country—a Bachelor's Degree in Music (2001), a Bachelor's Degree in Physiotherapy (2006), and a Master Degree in Science with a concentration in Oncology (2010). She won a number of awards while at college including the Mohawk College School of Medical Radiation and Allied Health Award (2015), The Judge W.K. Warrender Award (2015), and the Halyna Pierce-Fenn OTA/PTA Bursary (2014/2015). Maria gives back to the community—she was a volunteer for Brain Injury Services in Hamilton (2012–2017) and uses her aptitude for music to play the guitar to help uplift the spirits of others through music. Over the years Maria has played for retirement/nursing homes, the Out-of-the-Cold Program, and the Hispanic Heritage Week Latin Art and Music Exhibit. Maria credits her ESL teachers and her professors at Mohawk as her 'everyday heroes' for their professionalism, ethics and commitment to student learning.
Jad Saliba - Computer Systems Technician-Network Systems, 2001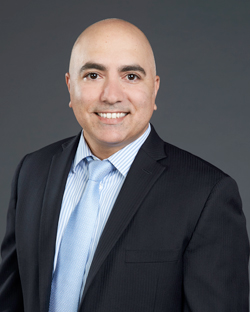 Technology Recipient
Founder & CTO, Magnet Forensics Inc.
Jad Saliba traded in his police badge to start a software company. While working as a member of the Waterloo Regional Police Service, Saliba was diagnosed with Hodgkin's lymphoma, forcing him to leave his job to undergo radiation and chemotherapy treatment. A year later, Saliba was in remission and returned as a digital forensics examiner. In 2011, he retired from the police service and founded Magnet Forensics. Saliba, who is Chief Technology Officer, and CEO Adam Belsher, built the company on their own, developing its first product, Magnet Internet Evidence Finder, a premium data recovery software that is used by thousands of law enforcement, government, military and corporate organizations worldwide. Today, Magnet Forensics is a global leader in digital forensics solutions with offices in Canada, the U.S., Europe and Asia. Saliba is an esteemed speaker at industry events, including the Crimes Against Children Conference, High Tech Crime Investigation Association (HTCIA), and the Canadian Police College.