By Emmett Steele '22 (Journalism) 
Graduates of the 1970 and 1971 class of the Textiles program recently reunited to celebrate the 50-year anniversary of their graduation. These golden grads had the opportunity to catch up and share their lives with old friends, and it's all thanks to the efforts of Earle Paquin '70. 
For Earle, the reason to put this reunion together was simple. "I wanted one," said Earle. "I'm 76 years old, I'm in good health, but who knows how long my ex-colleagues and I will stay that way. So, I said, 'let's give it a shot and get as many as we can together.'"  
There was a 25-year reunion in 1995, and it was held In Hamilton at the campus," said Earle.  "It was a successful reunion and a lot of fun for all. Unfortunately, I could not attend as I was living in Singapore at the time."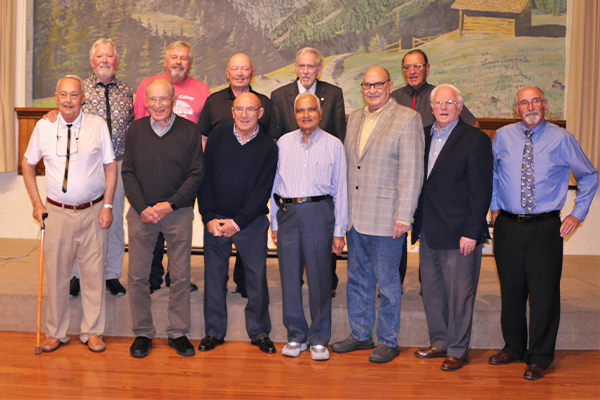 Earle admits he couldn't put together an event like this on his own. "I didn't do it myself," said Earle. "I had a team." He credits the reunions success to lifelong friends and fellow Textile graduates Graham Beilby '71, Clark McAlpine '70, Harold Kraus and Lorne Hodgson '70.  
"Me and four colleagues put together the most recent reunion," said Earle. "I approached them and asked if they'd like to work with me to organize a 50th graduation anniversary reunion. They said yes, so we got to work trying to get through the grapevine and contact all of the other grads." 
The five textile grads worked hard tracking down and reconnecting with their fellow alumni. It took some time, but with connections re-established and everything put in place, they set a date for the reunion. 
"We had organized to celebrate on May 17, 2020, because May 17 was our convocation date in 1970," said Earle. "But, of course, COVID hit, so we had to postpone it." 
After the work that was put in to organize the event, Earle wanted to find a way to keep everyone engaged and interested until a new date could be set. 
"I started asking from each of the grads to write a biography about themselves, to keep the momentum going while we waited for the reunion," said Earle. "So, I asked for one a month. I would get a bio' from one of the grads and send it to the rest of them until we got them all done." 
Through the ups and downs of the pandemic, Earle eventually found an opportunity to hold the reunion. "On October 1, 2021, we had 11 grads attend the reunion, plus three former professors." 
While organizing the reunion has had its challenges, Earle is glad to have done it. "The biggest benefit is catching up," said Earle. "You spend three years together, you make friends and acquaintances, and after 25 years you reconnect. You have a lot to talk about after 25 years. And then at the 50th, you have even more to talk about!" 
Earle recommends all graduates try and set up some kind of reunion. Whether you're just graduating, and you plan your reunion five years from now, or you graduated decades ago and are wondering how your fellow alumni are doing, it's worth it to take the time to catch up. "It's very rewarding, it just takes a little organizational time," said Earle. "The most important thing is to get a good team going, don't do it yourself." 
Are you interested in organizing your own reunion? Find out how to get started.
Alumni News and Stories
Introducing a new way for you to support your fellow Mohawk graduates and their businesses. Launched in spring 2021, the Mohawk Alumni Business Directory features a variety of businesses owned by Mohawk alumni that are accessed exclusively through the Mohawk Alumni Perks App. Here's a sneak peek at...
By Katrina Rathie, Journalism student  While working for the Canadian National Institute for the Blind (CNIB), Matisse Hamel-Nelis '19 was looking for a resource to learn more about her field and gain more knowledge of accessibility. "Given my background at CNIB, where the focus is on removing...
College commits to greater equity, diversity and inclusion among workforce New federal funding supports work to identify systemic barriers and establish pathway solutions for faculty, students and staff. Building on several equity, diversity and inclusion (EDI) efforts already underway at the...