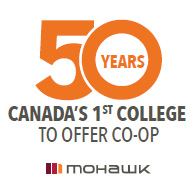 Co-op integrates relevant work experience with your academic studies giving you an edge on the competition following graduation.
Helping students succeed
As a Co-op student or Co-op graduate, we will help you refine your resume, prepare for interviews and assist you with your job search. See below for more information:
Are you an employer? Hire a Co-op student
With 24 exceptional Co-op programs, we are here to assist you with your current recruitment needs. Our Co-op students are highly skilled and ready to work to help you achieve success with your business.
Visit Mohawk College Employer's Website
---
Contact us
Room J137, Fennell Campus
Phone: 905-575-2167
Toll-Free: 1-888-546-COOP (2667)
 
Video Resources