ALUMNI SPOTLIGHT: Richard Auger
By Athanasia Guerra, 3rd-year - Journalism
Richard Auger is a Mohawk graduate of the graphic design program. Apart from his nine to five in the big city, Auger channels his love and passion for mountain biking into The Prfct Line, his mountain biking trail graphic t-shirt company. The concept for his company first came to Auger after a trip to Whistler in 2012. It was his first mountain bike trip outside of Ontario, and it introduced him to a new and welcome perspective on trails. "I just wanted a souvenir t-shirt," said Auger, "There's 100 trails, it's world famous, and they had two of their trails on t-shirts… that was it." Disappointed and inspired, Auger returned home in a different mindset than when he left. "I started paying attention to the names of the trails that I was riding and I was like yeah, okay, we've got some pretty clever names, people put some thought into this." He decided to make a couple of t-shirts for himself and see if people would like them and want them.
"The initial response was a little bit more overwhelming that I'd expected it to be," Auger said, "And it went from just wanting to do a couple of t-shirts to wow this thing is a full t-shirt line that people are buying." The most surreal moment for Auger was when people that he didn't know were buying his merchandise. That's when he really thought he was onto something, and The Prfct Line took off.
The first question I asked when interviewing Auger was, "This is probably something I won't be using but I was wondering for my own knowledge… how do you pronounce the name of your line? Is it just the perfect line?" He laughed as if it wasn't the first time he had been asked that question, and confirmed that it was pronounced how I thought. Naturally upon hearing his response I wondered… so why no vowels? Auger explained that the initial reason was because the domain name for the Perfect Line was taken… An obstacle that would never have existed a couple of decades ago... But this particular obstacle turned out to be bittersweet because Auger learned to love the name, even explaining that it fits the design of his trail shirts. "There's no pictures of bikes or anything like that," Auger said about the designs, "So if you're a mountain biker and you know the trail then you understand the t-shirt." He continued, "So with The Prfct Line without the vowels, it's sort of like for people in the know."
As for marketing, Auger doesn't do much, or as he put it, "I don't do anything." He chooses not to market himself too much because he feels he doesn't have to. He started this company as something fun to do on the side, and became impressed with the way that fellow mountain bikers found out about him on their own. As long as The Prfct Line is a side project, Auger doesn't see himself needing any sort of marketing techniques other than the lack thereof. A perfect example of this zero marketing technique working its magic is Joshua Little, a fellow mountain biker and Mohawk graphic design graduate, who stumbled upon Auger's website.
" Rich and I both share a passion for design and riding bikes and when we first met I think he recognized that. Before we began designing the shirt we met for a coffee just to talk shop. He gave me some great advice about design and what working in the real world is like. That is just one of his many great traits. Rich is always willing to help or give advice and I think that's were the collaboration came from. We had talked about the idea of doing a shirt for Christie Lake because of all the new trails they were building there. Shortly after, Rich asked if I wanted to help him design the shirt. The whole process was a great learning experience for me and really helped me grow as a designer. I enjoyed every minute of it. The shirt came out great and I'm proud to say I was a part of it. " - Josh Little, Graphic Design '15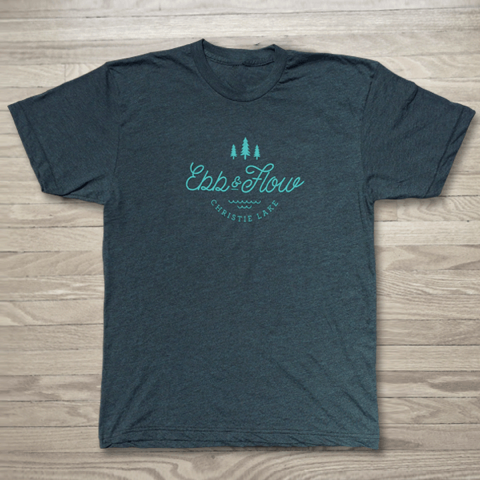 Little found out about the Prfct Line while he was still a Mohawk student. He met up with Auger at a coffee joint in Dundas to pick up the shirts he ordered. Hand-delivering t-shirts is something that Auger likes to do. "If someone lives in the Toronto, Kitchener, Dundas area I try to meet them somewhere," said Auger. Whether at a coffee shop or at the purchaser's houses, Auger likes to deliver his shirts in person as a way of meeting fellow mountain bikers. "It's allowed me to meet so many people that I wouldn't have met otherwise, so my group of riding buddies has grown because of this." Auger laughed when explaining that, to amuse himself, he delivers his shirts in small brown paper bags to make the transaction seem suspicious.
When Little and Auger met they started talking about their common interests of mountain biking, graphic design, and Mohawk College. This eventually led to Auger offering Little the chance to collaborate on a design for a new trail that was being built at Christie Lake. "It just felt good to not only be selling t-shirts and supporting trails, but to be helping young designers as well," said Auger. "And potentially there's more room to do that in the future." As for his own experience at Mohawk, Auger feels that it's not individual experiences that made his overall experience great, but the people that he met that have really impacted his life. "For me, whether its school or work, its always the people that you meet and the connections that you build."