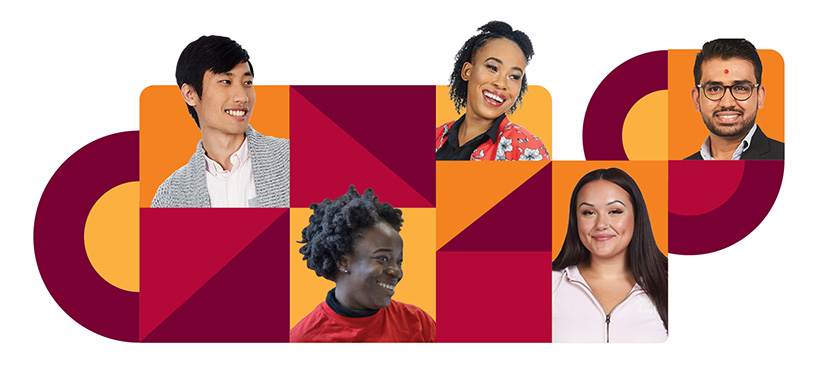 Strengthening our leadership in Equity, Diversity and Inclusion (EDI) is a key priority for Mohawk College, and integral to our core values.
As a college, we are committed to nurturing an equitable, diverse and inclusive environment for everyone who learns and works at Mohawk. We believe the rich diversity among our students and the communities we serve should be reflected within our workforce, and that as educators we have a responsibility to act and show leadership in advancing the principles of equity, diversity and inclusion in our community.
Our Equity, Diversity and Inclusion Action Plan is the result of a year-long process of research, consultation and collaboration between departments and individuals at all levels of the organization. It is a plan that builds on our successes to date and contains specific actions leading to outcomes that can be measured and verified over time.
Mohawk College's EDI Action Plan will remain a work-in-progress and frequently be reassessed to ensure it is meeting its objectives. This is a plan that will take time to implement. EDI is a strategic priority for the college and it will take the collective efforts of every employee and the broader college community to make its vision a reality.
If you have any questions about Mohawk's EDI Action Plan, please contact equityandinclusion@mohawkcollege.ca.
Regards,
Ron J. McKerlie
President & CEO, Mohawk College
Read and download the EDI Action Plan document
Download the Equity, Diversity and Inclusion Action Plan PDF
News and Updates
Statement from Mohawk College
Once again, racially motivated violence has dominated headlines. While the events that unfolded in Buffalo on May 14 were not here at home, the impact of this anti-Black violence can't be confined by any distances or borders. We are not immune to the effects of racism and hate and I am writing to you out of concern.
As a college community let's pause to remember and honour the victims of the Buffalo Black community who were attacked and murdered while grocery shopping. We extend our sympathies to the families and communities that are mourning these tragic, needless losses.
We continue to be committed to providing education and opportunities at Mohawk to address systemic racism. Together, we must build a community that will not tolerate discrimination in any form. We strive to be a welcoming, supportive and inclusive place of learning and work. 
If you find yourself struggling in the wake of this latest traumatizing news, you are not alone. Please talk to someone about how you are feeling. There are supports available to you through our college and in the community.
For staff:
The Employee Assistance Program is available to all Mohawk College staff through MyMohawk. Additional community resources can be found on the Equity, Diversity And Inclusion page on the MyMohawk website.
For students:
The counselling department can be reached at the Counselling website.
You can also contact:
Empower Me (for all students)
Phone: 1-833-628-5589
Website: studentcare.ca
Good2Talk
Phone: 1-866-925-5454
Website: good2talk.ca.
In the community, you can contact the Black Youth Helpline (Canada-wide)
Contact Mohawk's Social Inc. at socialinc@mohawkcollege.ca if you would like to join a regular Racialized Student Hang-out. 
 
Please take care of yourself and each other.
Sincerely, 
Ron J. McKerlie
President & CEO