The Mohawk College Emergency Response Plan (ERP) takes an "all hazards" risk mitigation approach to any potential emergency that involves employees and students.
Definition of Emergency
In the Province of Ontario's Emergency Management and Civil Protection Act, R.S.O. 1990, c.E9, an emergency is defined as:
A situation or an impending situation that constitutes a danger of major proportions that could result in serious harm to persons or substantial damage to property and that is caused by the forces of nature, a disease or other health risk, an accident or an act whether intentional or otherwise.
Purpose
The purpose of this ERP is to serve as both a framework and guideline, to establishing an organized approach in the delivery and implementation of effective decision making, communication and overall coordination during an emergency.
This ERP works in conjunction with all existing Mohawk College Policies and Procedures. All subsequent plans must be consistent with the overall organization and direction of this ERP. Specific, actionable procedures will vary, depending on the incident.
Objectives
The foremost priority in responding to emergency is the safety and protection of Mohawk College employees and students. The College is also committed to limiting or containing the extent of damage incurred during an emergency, and to the recovery and restoration of operations as soon as possible.
The two objectives of this ERP are:
Emergency Management – Identifying roles and duties, and how college leadership will work together during an emergency..
Education & Awareness – Raise awareness of procedures to be followed in emergency.
Scope
This ERP is intended to guide the College's response to everything from small disruptive incidents to large-scale campus emergencies. For situations affecting off-campus service locations, the College will work together with the responsible and affected building owners to assess and respond to developing situations.
This ERP assumes four stages of emergency response management: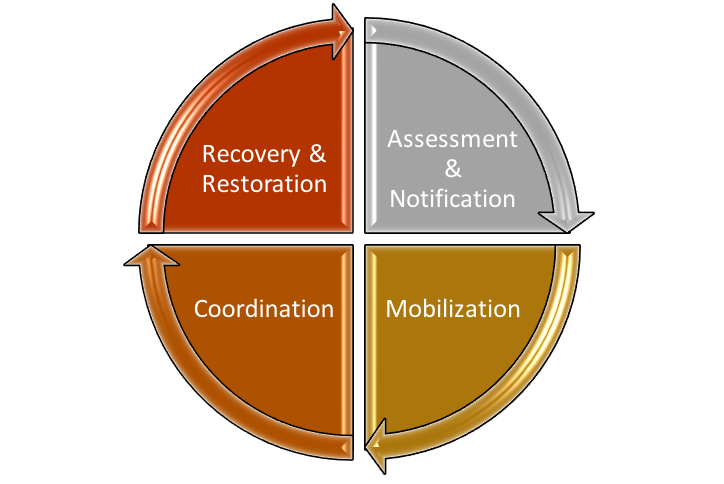 Assessment and Notification – The process by which the incident is identified as an emergency, and assessed for the appropriate response requirements.
Mobilization – Notification to senior leadership of formal coordinated response and the possible activation of the Emergency Operations Centre.
Coordination – The activation of roles, teams, and communications networks, as well as the deployment of resources in an emergency situation.
Recovery & Restoration – The restoration of normal operations during an emergency, and a post-incident review and best practices assessment following the event.