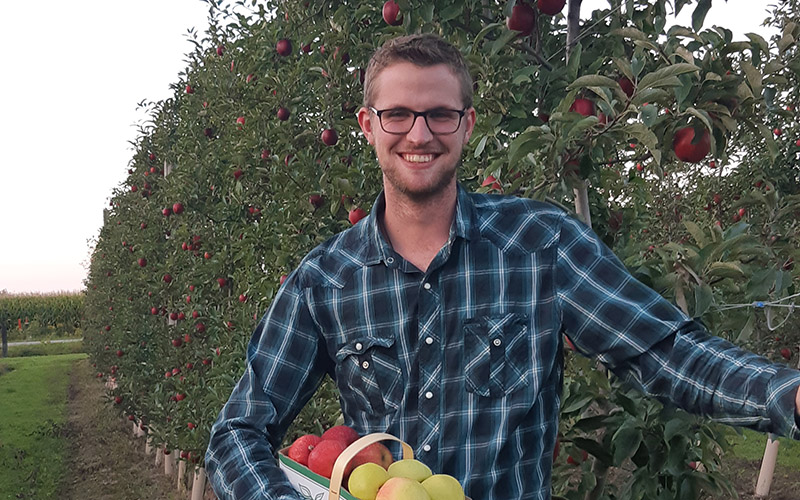 When Ben Vandenberg '18 was in high school, he and his family made a big move, not just from Burlington to Wainfleet, Ontario but from city life to country life. This was the point of their move. When his das was offered a job in nearby Welland, the family, including his mom and sister, saw it as an opportunity to start living out a dream of owning a family farm.
Starting small in 2013, they worked to transform the seven-acre horse farm they'd purchased into Pie in the Sky Orchard with the planting of approximately 50 apple trees in the first year. What started as a hobby farm showed Ben potential for a career. By his last year of high school, he began working for another local apple farmer to learn more about farming and support his dream financially. "Through a lot of personal assessment and reflection, I decided that apple farming was something I wanted to pursue," says Ben. "I could see there was still a lot of room to grow in this province." According to 2018 Ontario Apple Growers Report, Ontario is only growing about 40% of apples that Ontarians consume annually.
In 2017, wanting to expand his knowledge in managing a business, Ben enrolled in Mohawk's Small Business and Entrepreneurship program. Along with his courses, Ben was also introduced to SURGE, Mohawk's entrepreneurship hub, which helped him with creating a marketing plan for his business, something he had previously struggled with. Ben shares, "I knew how to grow a really good apple, but reaching out to customers and building a strong customer base was what I needed assistance with." He credits SURGE's program coordinator, Natalie Reid, as being of great help with developing a marketing plan.
Over the years, Ben has learned most of what he knows about farming through trial and error and on-the-job experience including spending six months working on an apple farm in New Zealand and touring apple farms across Canada. Ben has also made connections through an instant messaging app, WhatsApp with like-minded young farmers discussing how they can grow the field he loves.
Six years after starting in the field himself, Ben is still working for the nearby farm full-time as a manager while also tending to the growth of his own farm. "With farming, it takes a long, long time to be able to live off the farm yourself," says Ben. "We've been blessed over the years to see a lot of positive growth and support from our community." Recently, Pie in the Sky Orchard has expanded to include a bakery where Ben's mom shares her delicious pastries in local markets and in their storefront.
Looking ahead, Ben knows that farming is not a predictable field as there are so many elements out of his control, but he still finds enjoyment in the little things like interacting with customers. "I love to see how excited people get when they purchase a freshly picked local apple, knowing I can contribute to that is a great feeling."