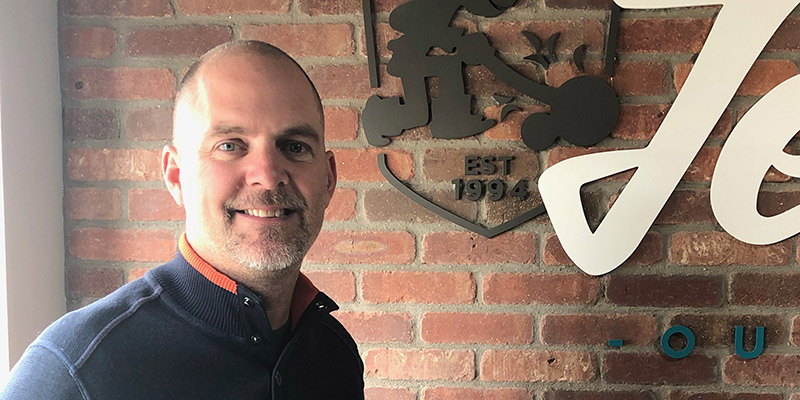 At the age of 13, Jeff Ronhaar began mowing neighbours' lawns. It wasn't until about age 16 that he considered this "good way to earn some extra cash" as an option for a long-term business. That summer he had noticed his friends getting jobs for $3 an hour—the minimum wage at the time—while he was earning $8 per lawn and getting to spend all his time outdoors. Little did he know then that his simple lawn mowing business would grow to a successful landscaping company and a career he loves.
Jeff's Outdoor officially began in the summer of 1994 and since then its services have grown from simple lawn maintenance to include landscape design. The company's team of more than 30 employees work year-round to create and maintain landscape designs for homeowners and organizations in Hamilton and the surrounding area.
At the office or in a backyard, Jeff is commonly called "coach." Seeing himself as a leader of a team more than a boss, the title began in his business' early days when it was Jeff and a few guys mowing people's lawns. It may have been due to his young age at the time, but he never saw himself using that title. As Jeff sees it, his job isn't any more important than anyone else's. In order for their clients to be happy and the business to remain successful, everyone must do their part. He is one of many coaches on the team, guiding and teaching as necessary.
This line of thinking may have developed from his early days at Mohawk. Enrolling in the Small Business Management program in the fall of 1991, Jeff wanted to learn all he could about running his own business. After applying the basic accounting skills of operating a business, Jeff believed it was just as important to "find good people to work with and treat them very well."
He also enjoyed that the program was taught by instructors who were local to the Hamilton region. Jeff already knew what type of business he wanted to start, but found it invaluable to meet the guests his professors brought in to class each week. "The networking instructors can provide is a great resource and Mohawk is excellent for that," says Jeff. "They have so many connections within the community that can give students the knowledge to complete their formal education and seamlessly start their career."
After Mohawk, Jeff expanded on his education through courses at the University of Guelph and Landscape Ontario to build his specializations in landscape design and knowledge of things like organic lawn care.
Jeff's business allows him to enjoy the outdoors as he did as a kid. "When I first meet a client, they have a blank empty space," he says. "By the time my team and I have completed the job, there's a new outdoor space for them to enjoy." Indeed, Jeff's Outdoor has helped him meet and work with people to transform their lives and living spaces.