Making a career change is never easy and Caroline Burgess tries to ease the struggle through her consulting business. Caroline made a change herself when she decided to take the Career Consultant Graduate Certificate through Continuing Education at Mohawk College.  Now a graduate of the program Caroline helps students gain a better understanding of what they want to do with their future. If you're thinking of making a career change Caroline's insight may be the advice you need.
Q+A with Caroline Burgess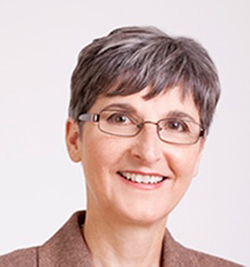 Q: Tell us about your business.

A: I have had a consulting business specializing in STEM Education (educating students in science, technology, engineering and mathematics) and Career Development since 2012. I coach young people in transition who may be trying to choose a post-secondary program, applying to graduate, or looking for a co-op or permanent job in a STEM field. I also give presentations to high school students on strategies for academic and career success.

Q: Why did you choose a STEM focus for your career consulting business?

A: I have always worked in STEM. First this was in mechanical engineering, and then in math and science education and outreach. When I moved into career development, it made sense to focus on STEM. My experience and extensive network in industry, government and research gives me a unique perspective as well as contacts that are useful to my clients.

Q: How has the program helped with your work?

A: The Career Consultant Graduate Certificate has provided me with many of the tools that I use in my work including those related to self-assessment, the job search, career transition, and change management.

Q: Which course in the program was your favourite and why?

A: It is hard to single out one course. The courses on Theories of Career Development and Individual Helping Relationships have influenced the way I work with individual clients. The course on Group Facilitation Skills has influenced how I prepare the presentations I give to high school and university students. Finally, the course on Diversity in the Workplace has made me think about what I can do to support more diversity in STEM fields.
Q: What field were you in prior to graduating from the Career Consultant program?

A: I have a B.A.Sc. in Mechanical Engineering from the University of Waterloo. I also worked in industry, research and government as a co-op student and graduate engineer in Canada, the U.S and Europe. I have a Masters in Mathematics Education from the University of Texas and for several years I taught math and science at all levels. Prior to starting my consulting business, I was an Outreach Coordinator at McMaster University for 8 years in the Chemistry & Chemical Biology, Mathematics & Statistics and Physics & Astronomy departments.  
Steps Toward Change
Have you thought about a career helping others decide which career move is best? If so the Career Consultant Graduate Certificate at Mohawk College could be the right program for you. Continuing Education courses allow students to pursue studies in-class in the evening or online so they are able to maintain their current lifestyle while taking steps towards a new career. For more information and to begin your application take a look at the program page.
If you're still unsure about career consulting as a career take a look at Caroline's consulting website and gain a better idea of the services she provides.