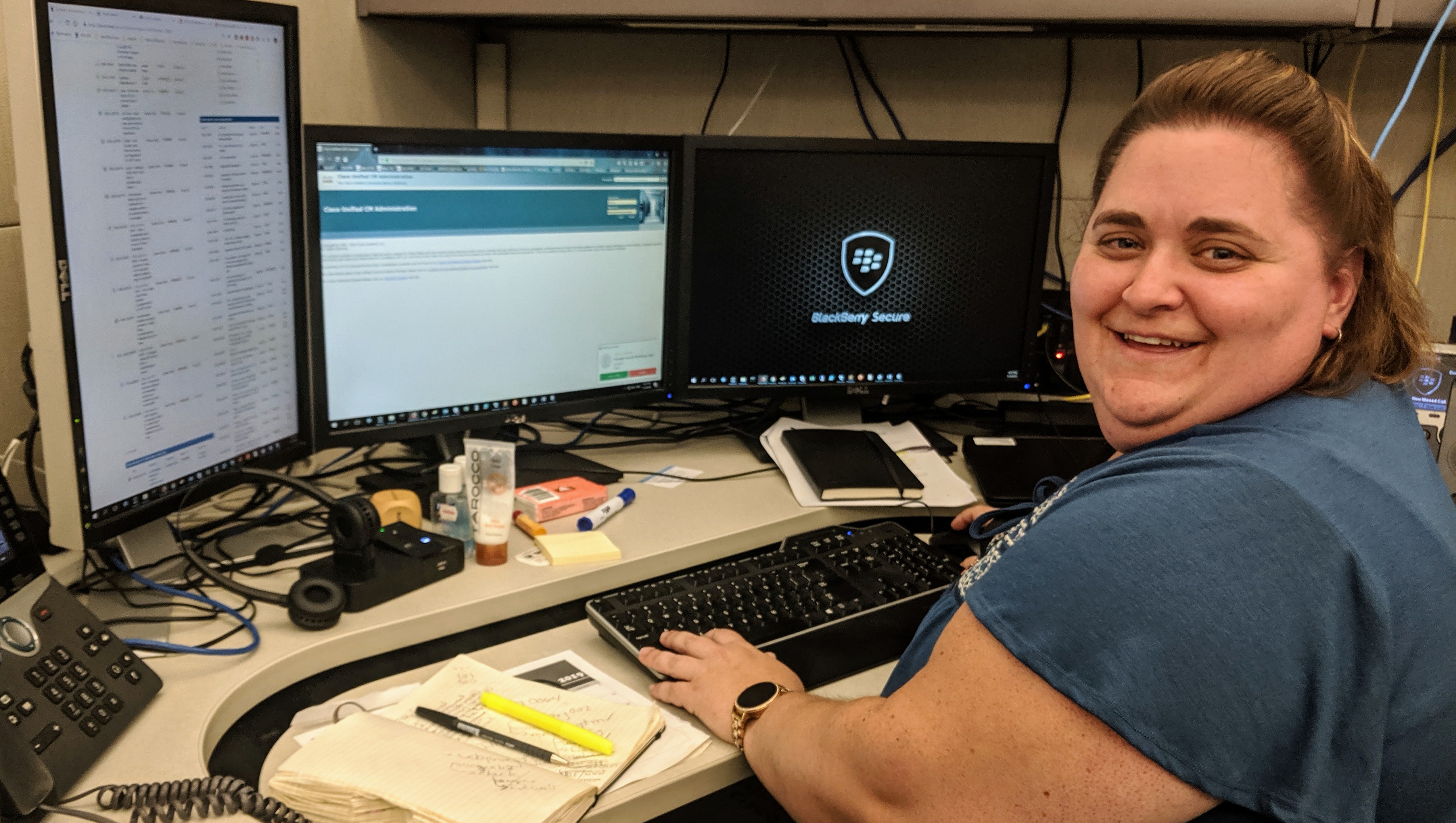 Living paycheque to paycheque was not the life that Donna Terry '17 wanted. Already in her late 20s, she knew that pursuing postsecondary education would be a large commitment and financial burden. For these reasons, Donna wanted to be sure the program and ultimate career path she would be embarking on was the right one for her. When researching her options, she wanted a career that had a lot of room for growth.
Donna had always had an aptitude for computers, so when she took a closer look at Mohawk's Computer Systems Technology - Network Engineering and Security Analyst Co-op program, she found what she was looking for. The well-respected program would give her the training and skills to achieve her ultimate goal—landing a career with a high earning potential in a field she enjoyed.
Upon graduation, Donna was considering a few job prospects when she was contacted by her co-op supervisor at Blackberry in Waterloo. The employee she had trained with throughout her placement was moving on to a new role within the company and Donna was offered the vacant position. "Thanks to Mohawk and my two co-op placements, I entered the workforce with years of experience and training that many companies wanted," says Donna.
Working today in her role as Voice Specialist II, Donna along with a team of four other members is responsible for managing telecommunications for Blackberry Global. This includes physical phones, the networks that connect those phones, video and audio conferencing systems, the server set for their IT support centre and more. "My regular day could include setting up someone's phone or implementing new routing technology between offices or updating servers," she says. Since Blackberry is a global company—with offices in the UK, Singapore and elsewhere—Donna and her team members need to respect other time zones when implementing updates to the system. This means working hours can change and the team needs to be flexible. Every day is different with new problems to solve which is what Donna enjoys most.
Looking back on her Mohawk experience, Donna sees two ways for a student to approach the program. Depending on your ultimate goals, you can either focus very intently on one branch of technology or you can keep a broader view in mind, learning as much as you can about all types of systems. In her position at Blackberry she specializes in voice technology, but her broader knowledge of other protocols and technologies, which she learned at Mohawk, comes in handy. "These courses provided me a foundation that I have continued to build on every day," says Donna. "Technology moves so fast that you must be prepared to continue to learn to succeed in this industry."
To new students, Donna shares that the first year can be very tough as there is a lot of memorization and initially many things don't seem to be connected to each other. By the second year, you will begin to see how everything you memorized will benefit you and come into play when you have more problem-solving type projects and assignments to work through. She confidently assures students, "It will all make sense in the end."