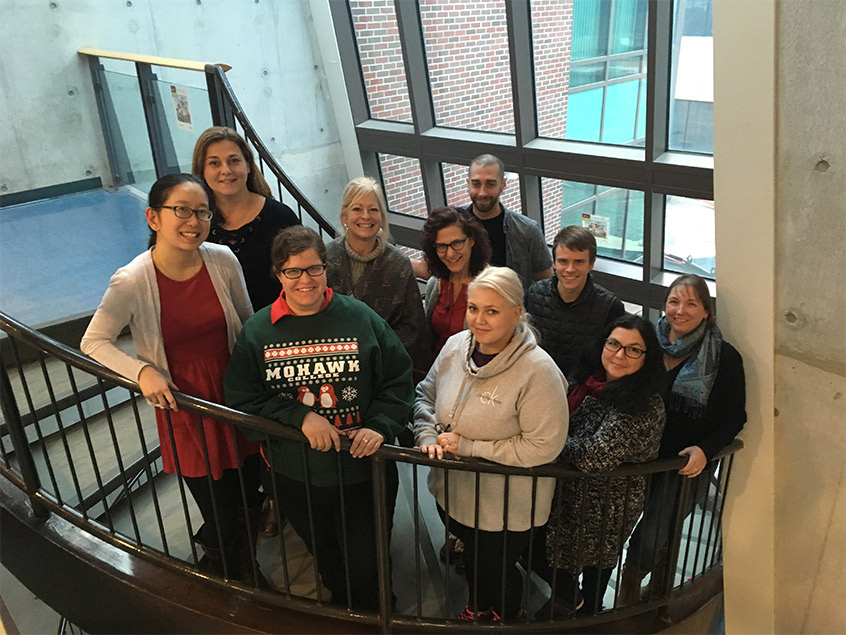 By Shanine Cook, third-year Journalism student
The first class of the Accessible Media Production graduate certificate program presented their Capstone projects at a showcase held on May 26, 2018, at Mohawk College and at the Guelph Accessibility Conference on May 29, 2018. Maurine Parzen, Ph.D. and Aiann Oishi were two of those participants.
Parzen, Ph.D., is a Mohawk College professor in the faculty of Nursing. She was excited to implement her accessible production skills especially in customer service for the older adult population. In Parzen's presentation, she stated that gaps and barriers do exist. To overcome these barriers, Parzen is focused on providing proper training in the healthcare sector that reflects sensitivity and awareness. Ultimately, her goal is to provide optimal care to all ages. 
Aiann Oishi is a registered graphic designer who is passionate about inclusive and accessible design work. Oishi completed her industry experience opportunity with Pearson Canada and presented a Web ABC Toolkit: Building an Accessibility Business Case (ABC). Her plan is to assist organizations in building a better business case for web accessibility. Oishi has produced an easily accessible webpage highlighting and giving information on how to create a successful ABC, as well as downloadable content to assist other business to do the same. Oishi will be presenting her Capstone project at the Inclusive Design Research Center Community Group at OCAD University in Toronto on Thursday, June 27, 2018.
The Accessible Media Production graduate certificate program is a one-year program led by Program Coordinator, Jennifer Jahnke. It's a first of its kind in Ontario and focuses on creating and producing accessible content across all media platforms. Some program highlights include: investigating the experiences of people with disabilities and how we are moving from accessibility to usability; receiving intensive training in producing accessible content including captioning, integrating and describing video, accessible documents using inclusive writing and communication, accessible social media and websites. The program is offered through an executive delivery format with students learning theory online during the week and hands-on experiences every Saturday.
"Graduates of the Accessible Media Production (AMP) program are very well positioned to meet the Accessibility for Ontarians with Disabilities Act (AODA) legislative requirements. Our program has more employers asking for students than we have students. The AMP program offers students multiple opportunities to interact and engage in work-integrated learning opportunities by attending conferences, workshops, guest speakers, industry days, field trips, etc. Our graduates are well prepared to take the International Association for Accessible Professionals CPACC exam" Jahnke shares.
Find out more about the Accessible Media Production graduate certificate.