Thinking outside the Bot
Can collaboration between different departments create successful learning opportunities for students?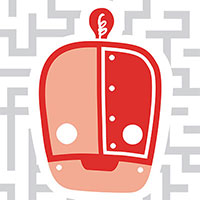 This semester, we are proud to feature two faculty members who did just that. Professors Mark Yendt (Computer Sciences and IT) and Leif Peng (Graphic Design) collaborated on a competition called AMazeBot. AMazeBot is an annual programming competition where Mohawk students write a Java program to navigate a virtual robot through a maze as efficiently as possible. This year, the AMazeBot competition was held on November 23rd during Common Hour. It was a rousing success with 11 entries (14 students in all, some in teams) and over 50 spectators attending the competition. Read more about the AMazeBot Competition.
Amazing A-Maze-Bot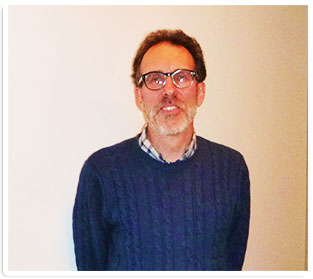 AMazeBot was born in 2003, shortly after Mark Yendt joined Mohawk as a professor in the Computer Science program. It went on a brief hiatus in 2012 until a past competition winner, Aravin Duraikannan approached Mark about re-igniting the competition.
Planning for the competition began in the summer as Mark and Aravin developed the ideal challenge for the students – a challenge he describes as having "no perfect answer", with many different paths to the goal. This type of problem encourages students to think critically and simulates problems they will encounter when they are working in the field. The "bot" has to work through 5 mazes, and the winner is the individual/team with the best score. Mark held sessions during Common Hour leading up to the competition to help students get ready for the big day.
A new dimension to the competition this year was the involvement of the graphic design program, specifically Leif Peng's third year graphic design class. Mark and Leif met at a PD session two years ago, and both shared a passion for finding new ways to inspire and engage their students. When Mark decided to re-launch the competition, he approached Leif to see if he wanted to be involved. Leif decided this would be a great opportunity for his third year students. (Pictured at right is Professor Mark Yendt.)
The students in the third year graphic design class were required to develop a complete branding campaign for the AMazeBot contest. Students developed posters, a t-shirt design, logos, avatars and for their final project, a motion graphic (like an animated GIF.) The posters were used to promote the contest across campus and the winning t-shirt logo appeared on the t-shirts worn by competitors in the contest. (See the image gallery below for a sampling of the excellent work of the graphic design students!)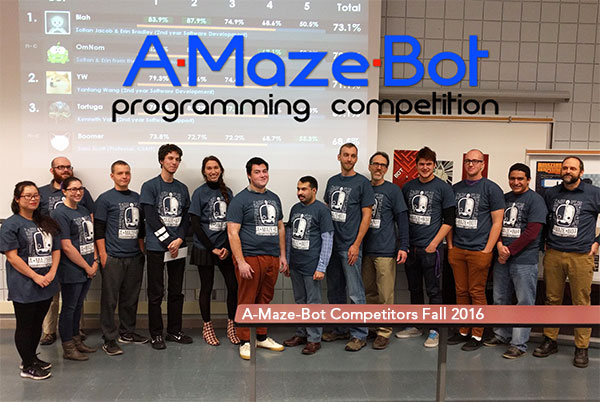 A-Maze-Bot Competitors - Fall 2016 (wearing t-shirts sporting logo design by Mohawk College third year graphic design student Courtney MacDonald.)
Living Lab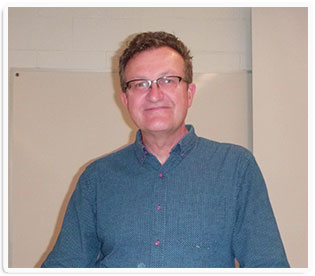 While discussing this project, Leif's enthusiasm for this collaboration is clear. As he describes, "graphic design is really about communication" and using the contest to integrate an entire semester of working projects, creates a "living lab" for his students. Students had to compete for their design to be selected by the "client", in this case, Mark.
As Leif says, learning to compete, taking risks and even failing are important for students to experience in the program. "The best experience they can have is to try and to fail," Leif explains. This is a valuable learning experience and reflects real life where the designers bid on jobs and may consistently face rejection. The major benefit of this exercise is they are able to experience friendly competition (and rejection) in the safe environment of the classroom. Viewing the designs of their peers allows the students to learn from one another and see how their designs stack up next to the competition. (Pictured at left is Professor Leif Peng.)
Keeping Current
"As a professor in this field, you have to constantly be keeping your skills up to date, see what's coming - you can't stand still," Leif explains. This is evident in the motion graphics aspect of the brand campaign challenge. Animated graphics are becoming an extremely relevant skill for graphic designers to master – take Pokemon Go, for example. These graphics feature characters that aren't static – they jump and move. For the final project, Leif's students had to create an animated graphic based on the AMazeBot competition. Although the animated graphics weren't used for this year's contest, it allowed the students to continue to build on the same branding project throughout the term.
Students were tasked with selecting the software to create the graphic and learning the software themselves – another skill required in order to be ready for the competitive graphic design industry. Leif explains to the students that they will need to continually refine their skills and learning new software independently is critical. Leif encourages his third year students to be self-reliant and, like Mark, provides them with the skills necessary to graduate and become independent professionals.
Keeping it Fun
When asked why he holds the competition every year, Mark says the reward is simple, "It's a lot of fun." Like Leif who is continually refining his skills and watching for what's coming, Mark stresses that it's important to try something different and to make learning fun for students. Especially in software engineering, students need to love what they do – and school is the time for students to decide if this is the right path for them. Mark believes that learning has to be fun, and participation has to be encouraged beyond the curriculum.
Indeed, the AMazeBot competition is a labour of love for all those involved. The students who register spend an average of 40-80 hours working on their "robot" outside of the classroom. Students can get 5% bonus marks for competing in AMazeBot but ultimately entering the contest is optional and students do it primarily for bragging rights (although there is a small cash prize as well.) Mark comments that there are other intangible benefits in participating, such as an improvement in programming and critical thinking skills and an improved ability to navigate complex problems. In the past, employers have reached out to the winners of the competition for co-op placements.
The Spark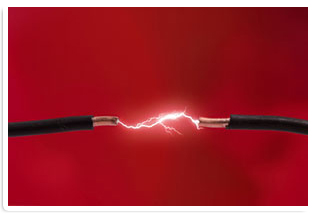 Both Leif and Mark delight in the joy of seeing the spark or the light coming on for students – that amazing moment when suddenly something clicks and students "achieve something they never imagined they could." They both mentioned the pride they felt when seeing their students excel while working on this project. They set the bar high for the students, and the students exceeded their expectations.
Advice
When asked what advice he'd give other faculty interested in embarking on a similar project, Mark said that management tends to be supportive of projects like this that engage students and also promote the college. (AMazeBot has been featured in Destination College for the past ten years; during one 45 minutes session, grade 7 and 8 students learn about simple programming through an AMazeBot format.) Contests especially are a great way to make learning fun for students.
Leif believes that it's not just the students that need to be learning and evolving, faculty need to constantly be upgrading their skills. He takes pride in preparing his students to succeed in their careers outside of the College, and since the design industry is in constant flux, he is consistently staying ahead of the trends.
The CTL would like to thank both Leif and Mark for their contributions in creating an innovative learning platform for Mohawk students. Their level of commitment to their students and respective programs is inspiring, and their collaboration shows how "thinking outside the bot….er, box" can have exceptionally positive results. We look forward to next year's competition and can't wait to see what other projects they develop!