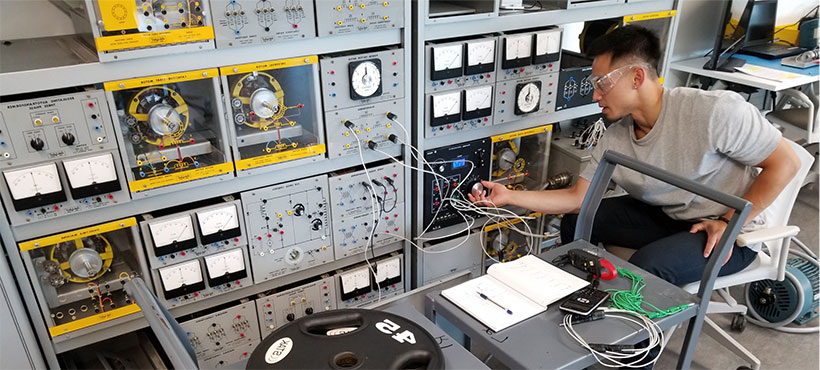 Testing of Electric Motors for Diagnostics & Predictive Analytics

The Energy & Power Innovation Centre (EPIC) provides expertise and facilities to support Canadian companies with their operational challenges with a particular focus on energy and resource management. EPIC also supports utilities and electrical companies with developing new solutions, as well as training in state-of-the-art facilities.
EPIC is also home to the Energy & Power Technology Access Centre (TAC), a national resource for
the Canadian manufacturing and agri-food sector. As a TAC, EPIC helps companies who would like to adopt energy technologies that can reduce operating costs throughout the manufacturing process and/or de-risk the implementation of new technologies.
 
Project Summary
EPIC Project Team: Patrick McInnis, Quang Nguyen (student), Mariano Arriaga
Enertics Inc Project Team: Bobby Sagoo, Varinder Sembhi
Enertics Inc. has partnered with Mohawk College's Energy & Power Innovation Centre to complete third-party testing of their motor health monitoring system (LVMM 100), using both test-bed and industrial conditions. The lab's test-bed allowed the research team to replicate common electrical and mechanical motor fault conditions in a safe and controlled setting while measuring the IoT sensor response from the LVMM 100. These tests allowed EPIC to verify the Enertics system analytics for the different fault conditions from the simulated cases.
The industrial setup used Mohawk College facilities to install the LVMM 100 device in two running electric motors to identify sensor data trends over extended operating times, as well as testing the unit's communication capability in a challenging industrial environment.
Industry Challenge
Electric motors are used in a variety of critical and non-critical industrial applications and can be expensive assets to replace. Unexpected downtime or break-downs can be costly, resulting in lost revenue and, in some cases, catastrophic damage. Although most industrial companies undertake preventive maintenance programs, those programs do not provide appropriate alerts and alarms for any anomalies before they become major faults. An automated system providing online diagnostics and proactive health warnings about their motors brings tremendous value to these companies.
About Enertics
Milton, Ontario-based Enertics provides technology solutions for online monitoring and diagnostics of electrical assets. Enertics has designed a non-intrusive system to monitor the health of electric motors that aims to extend the life cycle of motors by detecting abnormalities before they become faults. The company's product, the LVMM 100 Motor Health Monitor system, uses advanced IoT sensors and Machine Learning-based analytics to continuously monitor motor health; providing proactive alerts and alarms based on advanced diagnostics and predictive analytics.
Lab Test Fault Case Setup
The research team exposed the motors to various mechanical and electrical failure modes, testing the LVMM 100 system detection capabilities using advanced vibration and temperature sensors.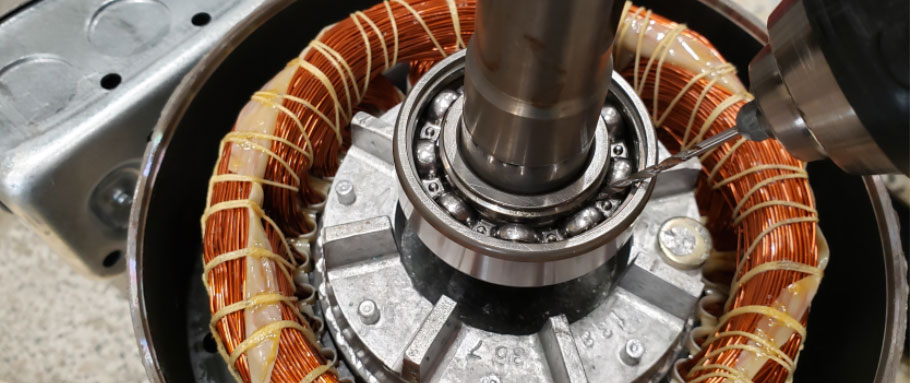 Mechanical Faults
The project replicated common motor mechanical faults such as rotor unbalance, misalignment, loose footing, worn bearing, loose casing, rotor rub, and sudden load variations.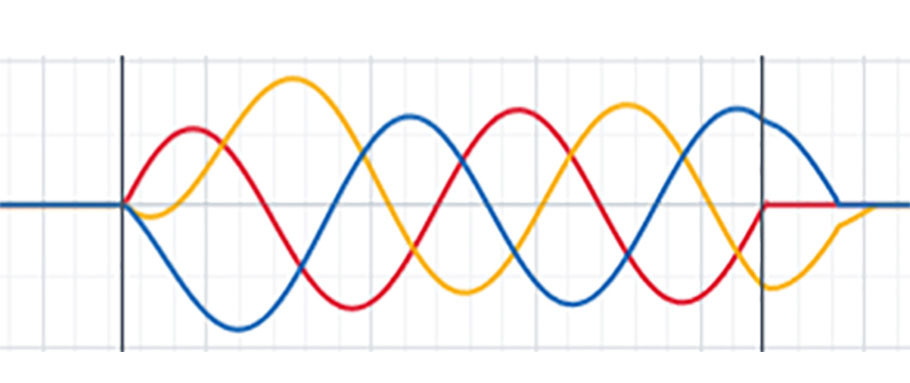 Electrical Faults
Using the LVMM 100 vibration sensors, the unit was also able to detect electrical faults associated with voltage issues, such as phase unbalance and 1- phase voltage loss.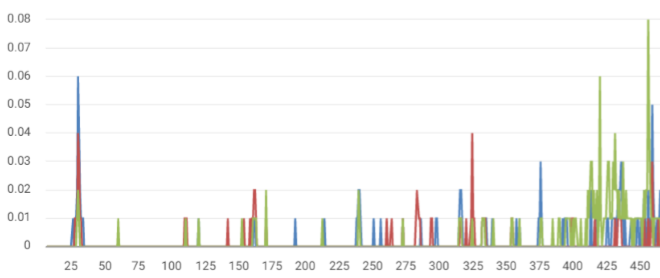 Spectrum Analysis
Each simulated fault-mode provided a 3-axis Fast Fourier Transform vibration signature, allowing the Enertics system to validate and correlate to the specific motor faults.
Online Monitoring of Industrial Motors
The LVMM 100 system was implemented on two 25 hp electric motors part of the HVAC air handling system at the Mohawk College campus. This setup provided Enertics with an industrial setup that they can showcase real-time to potential clients.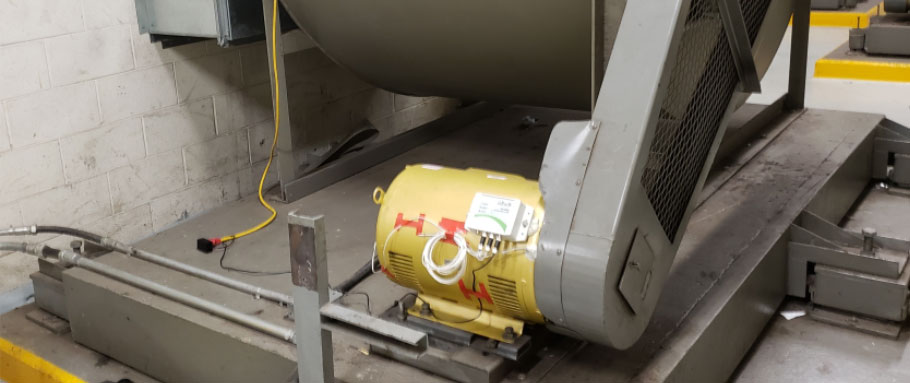 Monitoring
Enertics is targeting industrial facilities that operate a large number of motors in challenging environments. As a case study, the project monitored 24/7 two motors of the same type but with significantly different installation dates and compared their vibration signatures.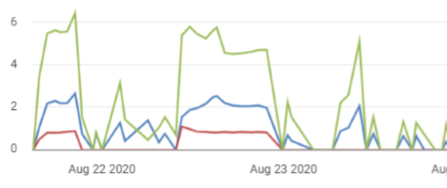 Sensor Data Trending
Enertics analytics platform provides easy access to the motor health historical data and analysis. The ongoing motor monitoring & diagnostics will allow Enertics to identify vibration and temperature patterns that will be able to identify issues at an early stage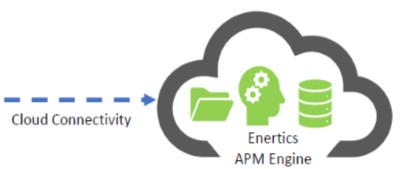 Data Transfer
This test not only provided a representative data sample for motor health trending and potential fault analysis; it also helped test and improve Enertics' data acquisition and communication system in industrial settings.
Results
The LVMM 100 system proved to be successful for online monitoring and identifying a diverse range of mechanical and electrical faults. It diagnosed simulated conditions of motor rotor unbalance, misalignment, electrical unbalance, and early-stage bearing faults. The system was able to diagnose these faults by leveraging online spectrum analysis of vibration signatures without needing any other test equipment. It also provided accurate motor RPM and mechanical loading without needing any other external gauges.
When the LVMM 100 system was installed on the industrial-sized motors at Mohawk College, we were able to test the end-to-end functionality. This provided valuable insight into some of the potential issues that could be encountered in an industrial application. We were able to detect and verify the ambient structural vibrations which may have an adverse impact on the operational performance over the life of the motor.