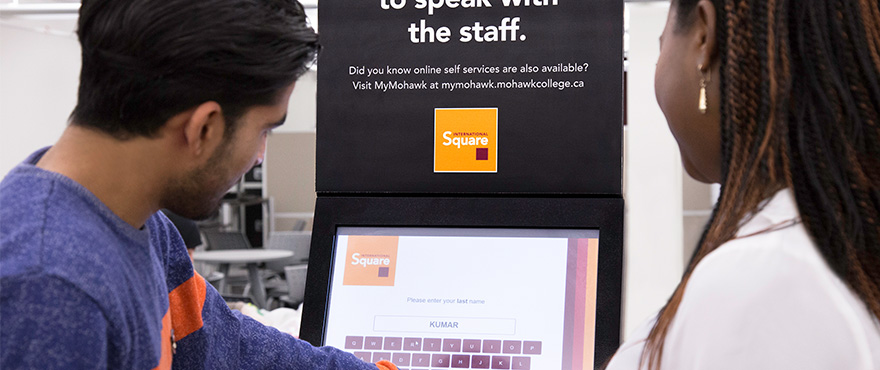 Registration
When you have been accepted into your program and your fees are paid in full, your Personalized Registration package will be emailed to you. If you have an agent/representative assisting you, they will receive general information only, but they will be able to assist you in getting your personalized information.
When you receive your Study Permit approval from Immigration, Refugee and Citizenship Canada, please notify us right away by emailing: intered [at] mohawkcollege.ca.
Once you have received your Study Permit approval and you have paid your tuition in full, you will then be able register for your courses online by logging in to MyMohawk.
MyMohawk is the name of the college's web portal for student services. Login details for MyMohawk will be sent to you in the email containing your personalized registration package.
While it is possible to register for your courses when you arrive at Mohawk, to avoid long lines, we request that all students make every effort to register online.
Check MyMohawk for your Course Registration Dates. You cannot register before the "Course Registration Begins" date.
Also, please be sure to review these important academic dates.

Tip: You will not receive your official study permit until you meet with Canada Customs when you arrive at the airport in Canada. However, once you have your study permit approval and your tuition is paid, you can register for your program online.
How to Register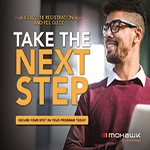 Get the Guide
For full registration and orientation instructions and information, please download our Registration and Fee Guide (Spring 2019).
Check to see when your timetable will open
Select "Registration" option from left side menu

Go to "Postsecondary students" box located at top left

Select the link "Find Out When to Register Online"

Find your program name and semester to confirm the date and time you will need to log back in and pick a timetable.

Log in to your MyMohawk account on the date and time that your timetable opens to select your preferred schedule. Follow the same instructions above and select "Choose or Change My Timetable". Follow the steps to confirm and print your schedule.
You must pay your full tuition fees before you can confirm your registration and receive a timetable.
If you have not received your username and password for MyMohawk, please intered [at] mohawkcollege.ca (send us an email).
Check-in at International Square
As soon as you arrive at Mohawk, and definitely before your first day of classes, please visit us in International Square at any campus. Please bring with you your study permit, passport and transcripts.

At our main, Fennel campus, International Square can be found in room J137.
At our Stoney Creek Campus, international services can be accessed at The Square, Room 121
At our Institute for Applied Health Sciences at McMaster, you will find international services at The Square, Room A111
To find us on any campus, be sure to look for the International Square Logo. See more information about International Square.
International Square
Orientation
Meet new friends and learn about how you can get ahead at Mohawk! Orientation consists of three parts in which you will meet staff and faculty, learn more about your programs, start to learn your way around campus and get introduced to a variety of fun, social activities.

Tip: Orientation is VERY important and is offered at the beginning of each semester

 International students enjoying Orientation

More international students attending Orientation
Part 1 – International Orientation – recommended for all international students: This is an opportunity to meet the International staff, meet other international students and learn about the services the College and International Student Services offer. It was a major decision for you to decide to come to Mohawk College, Canada and the International Staff are committed to help you make your time here successful and enjoyable.
Mohawk College will be hosting its New International Student Orientation on Friday, May. 3rd, 2019, 5-7 PM at J137 (International Square), Fennell Campus. Meet new friends, learn about available resources and win prizes! 
Part 2 – Academic Orientation – required by your program: In your Academic Orientation, you will be introduced to your program faculty, meet fellow students and have a chance to learn more about your program and the career you have chosen to pursue.
Part 3 – Social Orientation Events – not required, just fun: The Mohawk Students' Association (MSA) and Mohawk College provide a variety of activities and fun events: Frosh Fest, MSA Welcome BBQs, Community Bus Tours, live entertainment, Student Success Seminars and much more.
When Does Orientation Take Place? Academic and Social Orientation events are held the first week of the semester. International Orientation for first year students is held within the first two weeks of the semester. More information will be sent to you prior to the start of the semester.
Orientation, Fall 2018
International students can become eligible for domestic fees
Under limited circumstances, an international student may be eligible to pay domestic fee rates while studying at Mohawk College. The rules for eligibility are set by the Ontario Ministry of Training, Colleges and Universities.
If you think you should be eligible to pay domestic fees, please notify the International Student Services department in-person or by email at international.services [at] mohawkcollege.ca to obtain a list of documentation needed to verify you have met the requirements.
All documentation must be filed with the department by the deadlines (shown below), in order to be eligible.
Domestic rates will be applied to the current semester's fees if proof of meeting the eligibility requirements is demonstrated within the deadlines set by the College. There will be no exceptions. Domestic rates will not be applied retroactively to previous semesters.
| September | Deadline to change to domestic tuition rate |
| --- | --- |
| Fall 2018 | Semester 14, 2018 |
| Winter 2019 | January 11, 2019 |
| Spring 2019 | May 10, 2019 |