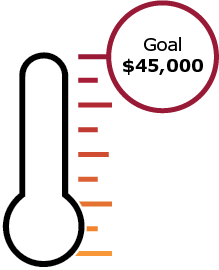 Mohawk supports our students AND our community. Every year, Mohawk participates in raising funds for the United Way. Since Mohawk started fundraising for this initiative, we have raised over one million dollars, and we plan to continue the momentum!
Support the Mohawk College United Way Campaign!
So many of our most vulnerable neighbours have felt the effects of the COVID-19 Pandemic, especially those who were already facing barriers. The Mohawk College United Way Committee is asking you to come together with us in support of those in our community who need our help the most. Last year, the United Way was able to support over 300,000 people across our community, and, with your help, we can continue to support the programs that many of our friends and neighbours rely on.
To help raise funds towards our goal, we encourage you to donate and support the Mohawk College United Way Campaign.
When donating, ensure to select 'My gift is part of a workplace campaign'. 
Awards
2022-2023 Joint Union Management Award
This award recognizes United Way initiatives and fundraising activities that are endorsed by both Union and Non-Unionized employees. United Way truly values its partnership with all sectors in the community, including the Labour Community. Together, we are working toward achieving common goals to support individuals that live and work in Halton & Hamilton. Joint Union-Management campaigns are a great way to work together to raise awareness and funds for our local neighbourhoods.
2021-2022 United Apart Award 
This award specifically recognizes Mohawk College as an organization that successfully connects and engages employees - whether virtually, or at a safe distance, with outstanding participation demonstrating a shared love for our community, despite uncertainty and challenges.
2019-2020 Spirit of Community Award
Mohawk College received the Spirit of Community Award from the United Way of Halton & Hamilton at the charity's awards night on April 3, 2019.