A Global Learning Opportunity (GLO) is a learning experience for full time Mohawk students and faculty/staff that takes place abroad. The purpose of GLO funded trips is to provide students and faculty/staff opportunities to increase global competencies and intercultural awareness. All GLO-funded trips must include Mohawk College students.
For more information about GLO, please visit our Frequently Asked Questions page.
Trips Overview
Data Type
Data
Trip Types

1) Curricular/Experiential Learning (for credit)

Examples: student placements, applied research, industry projects, service learning, and field trips

(Co-Op opportunities are not eligible at this time).

 

2) Co-Curricular (non credit)

Examples: volunteering, non-credit placement or work experience

 

Who Can Travel

- Student participants must be in good academic standing and registered in a full-time program.

- Students can be domestic or international.

Program Areas

- Full time faculty and staff from all program areas/departments may submit a trip proposal.

- Trip leads and co-leads must be full time faculty/staff.

- Multidisciplinary trips are encouraged. A trip may be open to students from more than one program area (e.g. Eng Tech, Social Work, Photography, etc.).

Trip Length
Ideally 1 week to 10 days
Possible Travel Dates

Winter break week

Trip Location
Any country outside of Canada
Learning Outcomes

All student trips should include the following:

- academic learning outcomes (related to the student's program of studies)

- one or more global competencies

- one or more United Nations Sustainable Development Goals

 

Co-Curricular trips should contribute to one or more Institutional Learning Outcomes (ILOs).

Funding Provided

Students: 75 - 100% of trip costs

- It is expected that student travelers will fundraise for any remaining expenses not covered by the College.

 

Employee Trip Lead(s): 100% of trip costs

Pre-Trip Orientation
All trip plans must include a Pre-Trip Orientation for students to prepare students for the trip, aid in intercultural learning and develop safety and risk plans. The International & Partnerships department will support this part of planning.
The Importance of Global Learning
Students and faculty who participate in a global learning experience are typically exposed to different perspectives, ways of living, cultures and customs, often needing to adapt and learn to communicate across cultures.
Global learning experiences allow students and faculty to:
Better understand other cultures
Develop critical thinking skills in real-world scenarios
Learn adaptability and problem-solving
Improve teamwork skills
Enhance employability after graduation
Supporting the Strategic Plan
Global Learning Opportunities support Mohawk College's Strategic Plan and the International & Partnerships Department's Strategic Plan.
Mohawk College Strategic Plan.
Aspiration: Enable Future Ready education, research, programs, services and experiences - for students, employees and our community.
Leadership Outcome: We will be the college of choice for a flexible, accessible and innovative learning and working environment.
International & Partnerships Departmental Strategic Plan
Pillar: Partnerships & Global Engagement
Outcomes: New opportunities for partnership development; Global competencies and learning
Objectives: Sustainable and quality institutional partnerships and projects; Co-location strategy for market development and branding; Enhanced student and staff mobility, and Internationalization of curriculum.
Funding
GLO funding will cover 75-100% of student trip costs and 100% of faculty trip costs. It is expected that student participants will fundraise to cover any costs not covered by GLO funds. The total amount of funding provided for each trip will be based on the trip details (e.g. location, length, number of participants, activity costs).
GLO funding can be used for travel-related expenses such as airfare, on-ground transportation, accommodations, course/program fees for students, and other items required for international travel.
Funding cannot be used for memberships, conference fees, or tuition for faculty.
Proposal Process
Visit the GLO Application Process page for full details, timelines and the application form.
Stage 1: Trip Proposal are submitted by faculty/staff and reviewed by the GLO Selection Committee. Trip Proposals must be approved by the trip lead's Operations Manager, Associate Dean/Director and Dean (as applicable) before submission.
Stage 2:  Selected faculty/staff trip leads sign a Travel Funding Agreement. Trip preparations take place (e.g., selecting students to participate, building the program, etc.). Pre-Trip orientations are developed for and delivered to students.
Stage 3: Travel abroad.
Stage 4: Faculty/trip lead(s) debrief with Mohawk International and submit a trip report (due within one month of returning to Canada).
GLO Selection Committee
The GLO Selection Committee determines which Trip Proposals are approved and the amount of funding for each trip.
The GLO Selection Committee is made up of staff from: 
Mohawk International

Academic areas (faculty and/or Dean/Associate Dean) 

International Faculty Lead

Centre for Teaching & Learning 

Human Resources
Roles & Responsibilities
Mohawk International will:
Advise on partnership opportunities available 

Advise on risks and risk monitoring

Advise on Travel Waivers mandated by College

Advise on MOU development 

Advise on project preparation and trip logistics

Develop and deliver pre-trip orientation to faculty/trip lead(s) and students or work with trip leads to develop and deliver the orientation

Purchase Guard.me emergency medical insurance for all student travelers
For all trips, the trip lead(s) will:
Plan the trip and make all travel arrangements in alignment with the College's Travel Expenses and Hospitality Policy (pdf)
Adhere to the terms outlined in the Travel Agreement
Identify at least one global competency and one United Nations Sustainable Development Goal to be achieved through the global experience
Debrief with Mohawk International and submit a trip report within one month of returning to Canada
Advertise the trip to students and oversee the selection process 

Organize pre-trip group meetings and oversee all fundraising activities

Collaborate with the partner organization/host institution (if applicable)

Prepare status reports during the trip planning stage

Lead the trip abroad

Ensure learning outcomes are embedded in the experience and students have the opportunity to achieve them

Continuously monitor student safety and well-being
Global Competencies
All GLO-funded trips must contribute to the achievement of at least one of the following global competencies:
Cultural Self-Awareness: Demonstrate self-awareness within the context of global & local communities. Describe how the experiences, perceptions, practices, and behaviour of people from around the world may differ from one's own.   

Intercultural Communication and Adaptability: Adapt behaviour and communication style within multi-cultural environments to function effectively in group/teamwork, employment, community, and global contexts. 

Global Perspectives: Demonstrate ability to understand and appreciate multiple world perspectives. Identify how one's field of study may be practiced differently worldwide. Demonstrate an attitude of curiosity, openness and discovery. 

Global Engagement and Responsibility: Demonstrate understanding of ethical, social, and environmental issues in local and global systems and culturally diverse populations. Show how culturally sensitive action can be taken toward positive change.
Intercultural Development Inventory (IDI)
It is encouraged that students and Trip Leads complete the Intercultural Development Inventory (IDI) pre-trip and if possible, post-trip to measure intercultural competency development.
The IDI is a tool used to measure where participants of Global Learning Opportunities are on a continuum of Intercultural Development
To learn more, visit the Intercultural Development Inventory site.
United Nations Sustainable Development Goals (UNSDGs)
All GLO-funded trips must contribute to the achievement of at least one of the United Nation Sustainable Development Goals (UNSDGs).
The United Nation's Sustainable Development Goals are a collection of 17 global goals designed to end extreme poverty, reduce inequality, and protect the planet by 2030. 
Learn more about the United Nation's SDGs.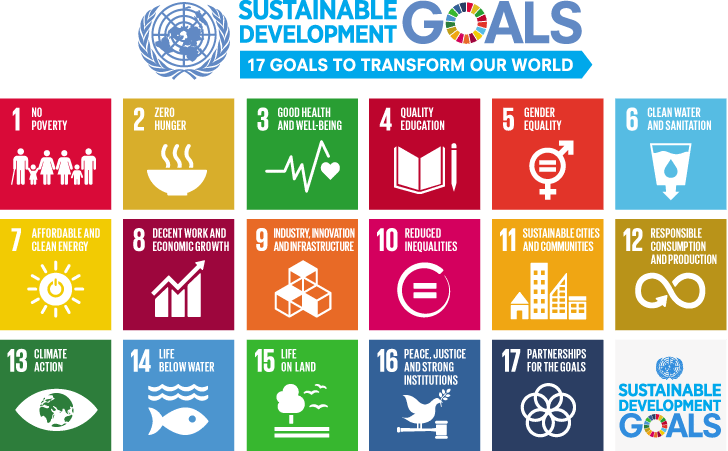 View an accessible version of the above image.
Source: United Nations
Institutional Learning Outcomes (ILOs)
Co-curricular student trips should contribute to the achievement of at least one of the following Institutional Learning Outcomes:
Communication
Collaboration
Critical Thinking
Continuous Learning
Responsible Citizen
If a trip is co-curricular, students can add their achievements to their Co-Curricular Record (CCR)
Project Background
In an effort to action the 2017-2021 College Strategic Plan commitment to "provide a gateway to global experiences" (p. 41), the International GLO team conducted a survey of just over 2,000 students and 57 program coordinators and interviewed 35 faculty about global learning opportunities during 2018/19. The aim was to find out if there is interest among students and faculty in global experiences and to uncover needs and barriers. The main findings were:
There is great interest at Mohawk in global learning opportunities (70% of faculty and 70% of student respondents indicated interest)
Both students and faculty prefer a short-term experience of under one semester
Funding was identified as the number one barrier to participation for both groups
Students indicated a preference for work-based experiences (e.g. work/field placements, co-op)
Faculty indicated that a transparent and formal process and consistent funding were desired

Research has indicated that the development of global competencies such as communication, collaboration and adaptability enhance the employability of graduates (OECD, 2018, p. 5; MAESD, 2018, p. 8; Davies, 2011, p. 9).
The GLO Project was launched in 2020 and received 14 excellent applications. In 2022, after a 2 year hiatus due to COVID, GLO was relaunched!
Here are some reports that were consulted in the creation of the GLO project:
Educating Global Citizens (2018)
Future Work Skills 2020 (2011)
Global Education for Canadians (2017)
Canadian Students Abroad infographic (2016)
A World of Learning pdf (2016)