The Mohawk College Electrical and Computer Engineering Technology (ECET) department is a member of the Microsoft Azure Dev Tools for Teaching program. This program allows ECET students to install various Microsoft software products related to their studies at no cost.
Products such as Access, Project, SQL Server, Visio, Visual Studio, Windows, Windows Servers and many more are available. The Microsoft Office suite is not part of the program.
Getting the software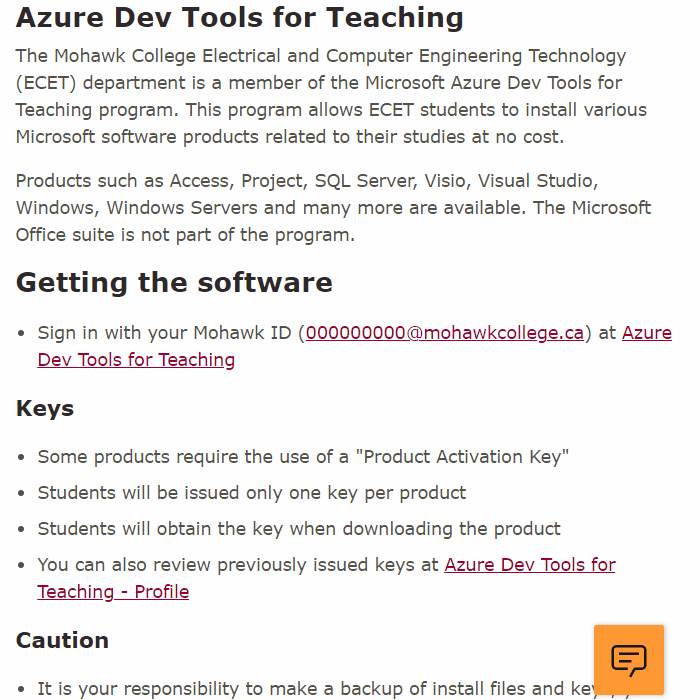 Keys
Some products require the use of a "Product Activation Key"
Students will be issued only one key per product
Students will obtain the key when downloading the product
You can also review previously issued keys at Azure Dev Tools for Teaching - Profile
Caution
It is your responsibility to make a backup of install files and keys, you may not be able to retrieve them through the site in future, even while you are still an active member of the program
Software is provided on an as-is basis
ECET makes no warranty or assurances that the software will work in the manner the student expects
Software is installed at the student's own risk
If a student is uncomfortable installing software on his/her personal computer, then they should not participate in the program
Due to the volume of students in the program, ECET is unable to provide software support for any issues encountered
Microsoft Office
Microsoft Office is not part of the program
The College makes Office available to students at Office 365
Microsoft Azure
Microsoft has a free-trial to its Azure service for students for available at Azure for Students.
To find out more about the program in general, you may visit the Azure Dev Tools for Teaching site. If you have a question related to the specifics of ECET implementation of the program, you may contact brian.minaji [at] mohawkcollege.ca.