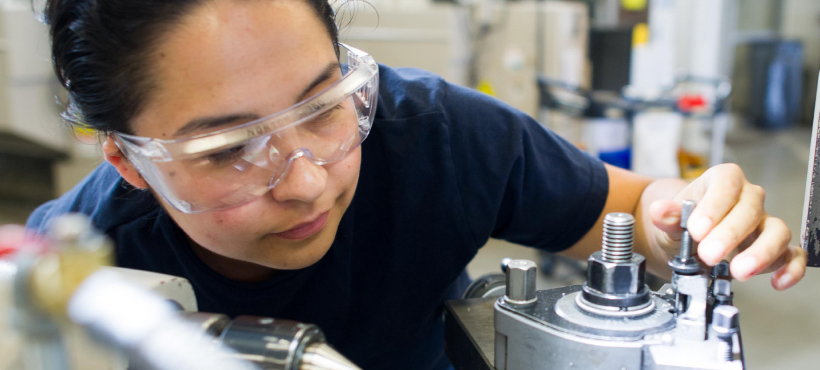 What is WITT?
WITT is a group that increases opportunities and supports for women in technology and trades in all fields, through a rich networking and support community. WITT welcomes industry, staff, students and faculty across all areas of the college and all genders, backgrounds, races and orientation to become involved and contribute to the support of women in technology and/or trades.
WITT strives to provide:
Mentoring and coaching
Networking opportunities
Career exploration
Pathways for success
Did you know?
In 2017, Mohawk participated in a Canada 150 Science, Technology, Engineering and Math (STEM) workshop. Participants at this workshop identified the need for females in technology to network as a community.
Also in 2017, Mohawk conducted a research project on women in trades that confirmed that while the general workforce is comprised of both men and women, in skilled trades only 3-5% of the workforce is comprised of women. As the average age of skilled trade workers approaches retirement, there is a clear opportunity for women and other underrepresented groups to seek rewarding careers in skilled trades. As a result of these findings, WITT was formed.
New: Apprenticeship Incentive Grant for Women
In Budget 2018, the Government of Canada announced a new Apprenticeship Incentive Grant for Women to further support women in entering, progressing, and completing their training in Red Seal trades where women are underrepresented. Learn more about these incentive grants at Government of Canada.
Upcoming Symposium Event: Innovation
Date: Late September/Early October (Exact Date TBD)
Time: 6:00 p.m. - 9:00 p.m.
Location: Mohawk College | Fennell Campus
The Joyce Centre for Partnership & Innovation
With the generous support of RBC, we look forward to having you join us for an evening of networking and discussions focused on Innovation.
Upcoming Coffee Hour Workshops
Wrap-Up/Mini Solar Panel Build
Date: Wednesday, April 8, 2020
Time: 12:00 p.m. - 1:00 p.m.
Location: TBD
Previous Event Topics
Mentorship
Networking
Technology Resources Available
LinkedIn Profile
Learning about each other's programs "Speed Dating"
Sustainability
Co-curricular Record and Public Speaking
Stress Management
Lock Picking
Hacking
Energy use and how to machine code to operate a process controller
STEM T-Shirt Making
Drones
Contact Us
If you would like to receive ongoing communication about events and upcoming opportunities with WITT, connect with us!
For more information on how to participate, please contact Liz Martin at elizabeth.martin6 [at] mohawkcollege.ca (subject: WITT%20Inquiry) .
If you are an industry professional and are looking to support WITT, please contact Rebecca Isowa at rebecca.isowa [at] mohawkcollege.ca (subject: WITT%20Industry%20Inquiry) .