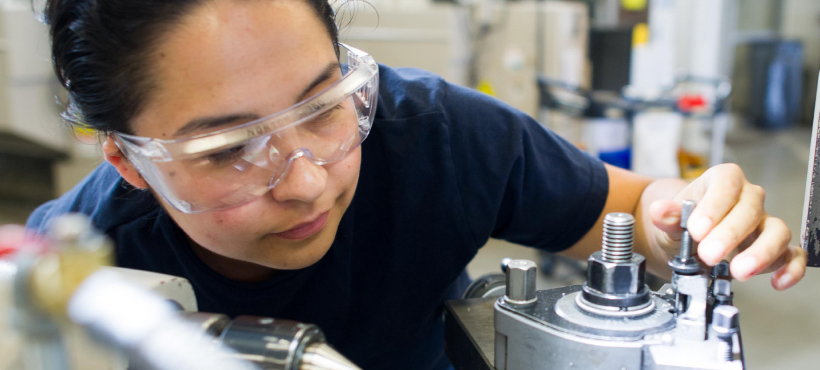 What is WITT?
WITT is a group that increases opportunities and supports for women in technology and trades in all fields, through a rich networking and support community. WITT welcomes industry, staff, students and faculty across all areas of the college and all genders, backgrounds, races and orientation to become involved and contribute to the support of women in technology and/or trades.
WITT strives to provide:
Mentoring and coaching
Networking opportunities
Career exploration
Pathways for success
Did you know?
In 2017, Mohawk participated in a Canada 150 Science, Technology, Engineering and Math (STEM) workshop. Participants at this workshop identified the need for females in technology to network as a community.
Also in 2017, Mohawk conducted a research project on women in trades that confirmed that while the general workforce is comprised of both men and women, in skilled trades only 3-5% of the workforce is comprised of women. As the average age of skilled trade workers approaches retirement, there is a clear opportunity for women and other underrepresented groups to seek rewarding careers in skilled trades. As a result of these findings, WITT was formed.
WiTTConnect Meet-ups
WiTTConnect Meet-ups are one hour sessions that will give you an opportunity to meet fellow group members and become involved with an inclusive community, while learning more about technology and the trades. Each session will consist of an update of WiTT events and opportunities, a curriculum kit showcase and an activity related to a WiTT field, or career skill.
Upcoming sessions:
Welcome/Welcome Back, Virtual Remote Learning Resources and Tips
Wednesday, September 16, 12:00 - 1:00 EST
Meet the Women in Technology and Trades team and learn about how to thrive in a virtual remote environment.
mohawkwitt [at] mohawkcollege.ca (Click here to register for this session.)
Learn how to Make Slime
Wednesday, September 30, 12:00 - 1:00 EST
mohawkwitt [at] mohawkcollege.ca (Click here to register for this session.)
Creating a Brush Motor
Wednesday, October 21, 12:00 - 1:00 EST
mohawkwitt [at] mohawkcollege.ca (Click here to register for this session.)
Chain Link Fountain
Wednesday, November 18, 12:00 - 1:00 EST
mohawkwitt [at] mohawkcollege.ca (Click here to register for this session.)
Rube Goldberg Machine Competition/Design Thinking 
Wednesday, December 2, 12:00 - 1:00 EST
mohawkwitt [at] mohawkcollege.ca (Click here to register for this session.)
WiTT Interview Series
Interview with Aleksandra Bis, Project Coordinator at Walters Group
Interview with Melissa Montenegro-Rosero, Mohawk College Engineering Technology Student
Interview with Alice Rende, Mohawk College Engineering Technology Student
WiTTConnect Tech Talks
WiTTConnect Tech Talks are an opportunity to learn about emerging technology fields from a faculty member or industry partner working in the field.
Upcoming sessions include:
Artificial Intelligence (AI)
Augmented and Virtual Reality (AR/VR)
Contact MohawkWITT [at] mohawkcollege.ca for more information
New: Beyond Boundaries Women's Accelerator program
Beyond Boundaries is an accelerator program in the Halton Region aimed to advance women's economic empowerment. Our objective is to support women entrepreneurs to grow, scale-up their business and reach global markets. The program is part of the Government of Canada Women Entrepreneurship Strategy (WES).
They will be launching a second cohort this fall, and a third cohort in 2021:
Cohort 2
Intake July/August, start date: September 15th
• September 2020 – Kick-off, Think Big & Scale
• October 2020 – Sales Excellence
• November 2020 – Financial Acumen for Scale
• December 2020 – Technology Strategy
• January 2021 – Graduation & Wrap Up
Cohort 3
Intake May/June 2021, starts September 2021
• September 2021 – Kick-off, Think Big & Scale
• October 2021 – Sales Excellence
• November 2021 – Financial Acumen for Scale
• December 2021 – Technology Strategy
• January 2022 – Final presentations and wrap up
For more information, click here.
New: Apprenticeship Incentive Grant for Women
In Budget 2018, the Government of Canada announced a new Apprenticeship Incentive Grant for Women to further support women in entering, progressing, and completing their training in Red Seal trades where women are underrepresented. Learn more about these incentive grants at Government of Canada.
Curriculum Kits and Other STEM Resources
Have you heard out our WiTT curriculum kits? A curriculum kit looks at how ideas concepts and ideas in science, engineering, math, and technology work together to help students engage with STEM based curriculum and virtualizations in small achievable tasks.
These kits are designed in concert with Women in Technology and Trades students at Mohawk College to ensure that the kits are interesting and appealing to a broad range of students. To learn more about the kits, please visit or STEM Learning Resources page.
Upcoming Symposium Event: Future of Work
Date: Fall 2020 (Exact Date TBD)
Time: (TBD)
Location: Virtual Remote
With the generous support of RBC, we look forward to having you join us for an evening of networking and discussions focused on the Future of Work
Techsploration
The goal of Techsploration is to increase the number of women working in science, engineering, trades, and technology-related occupations by assisting young women from diverse backgrounds to explore a wide range of career options in fields where women are significantly underrepresented. Our hands-on, mentor-led programming for young women in Grades 9 through 12 creates awareness about the role of work in their lives and helps them understand the significance of math and science for their future careers. Does the program work? Nearly 50% of our alumnae pursue careers in one of our four areas of focus!
Techsploration is a recipient of a 2017 NOW! Nova Scotia Good News Award and was recognized nationally with the 2018 Women in Communications and Technology Leadership Excellence Award for Empowerment.
To learn more, visit their website.

OACETT
OACETT have been putting on webinars for students interested in joining OACETT, to give them some background information on the association. Here is a link to our website with more information: https://www.oacett.org/Why-Join/Webinar_Wednesdays. OACETT's College Outreach Manager, Trish Tedoldi can also accommodate requests for presentations that are outside of the Wednesday timeline. She can be contacted at ttedoldi [at] oacett.org ().
For students who are members, OACETT has been putting on a variety of continuing professional development sessions and general interest webinars from April on topics such as: lean six sigma (white, yellow, green belt), how to maximize your resume/linkedin/cover letter, leadership. To name a few.  Some are free and some are paid sessions. However, all are offered at significantly reduced rates.
Great External Resource
Rhyze Ventures is a custom-designed program created by women entrepreneurs, for women entrepreneurs. We have crafted a balance of in-class learning, practical hands-on project work, mentorship, and peer-to-peer networking to address your biggest business challenges, push your boundaries, and see you through to implementation.
https://innovationguelph.ca/rhyze-ventures/
Previous Event Topics
Mentorship
Networking
Technology Resources Available
LinkedIn Profile
Learning about each other's programs "Speed Dating"
Sustainability
Co-curricular Record and Public Speaking
Stress Management
Lock Picking
Hacking
Energy use and how to machine code to operate a process controller
STEM T-Shirt Making
Drones
RBC Future Launch Program
All of our Women in Technology and Trades initiatives are made possible with the generous support of RBC and the RBC Future Launch Program.
Contact Us
If you would like to receive ongoing communication about events and upcoming opportunities with WITT, connect with us!
For more information on how to participate, please contact MohawkWiTT [at] mohawkcollege.ca
If you are an industry professional and are looking to support WITT, please contact Rebecca Isowa at rebecca.isowa [at] mohawkcollege.ca (subject: WITT%20Industry%20Inquiry) .