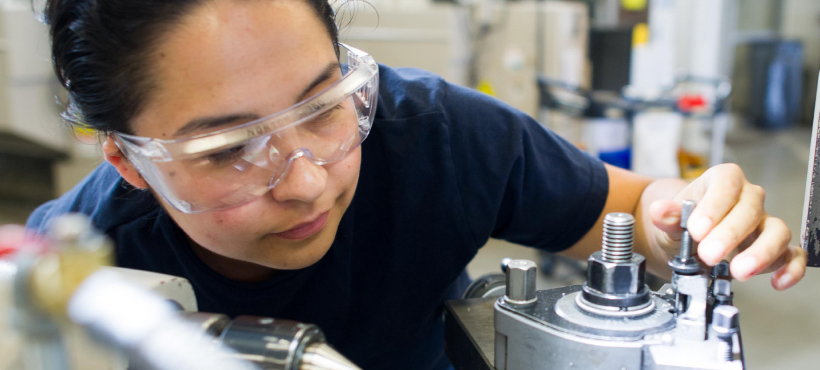 What is WITT?
WITT is a group that increases opportunities and supports for women in technology and trades in all fields, through a rich networking and support community. WITT welcomes industry, staff, students and faculty across all areas of the college and all genders, backgrounds, races and orientation to become involved and contribute to the support of women in technology and/or trades.
WITT strives to provide:
Mentoring and coaching
Networking opportunities
Career exploration
Pathways for success
Did you know?
In 2017, Mohawk participated in a Canada 150 Science, Technology, Engineering and Math (STEM) workshop. Participants at this workshop identified the need for females in technology to network as a community.
Also in 2017, Mohawk conducted a research project on women in trades that confirmed that while the general workforce is comprised of both men and women, in skilled trades only 3-5% of the workforce is comprised of women. As the average age of skilled trade workers approaches retirement, there is a clear opportunity for women and other underrepresented groups to seek rewarding careers in skilled trades. As a result of these findings, WITT was formed.
Upcoming Symposium: Advocacy
Date: TBA
Time:  4:00 pm to 6:00 pm
mohawkwitt

[at]

mohawkcollege.ca

(Register for the Symposium )
WiTTConnect Meet-ups
WiTTConnect Meet-ups are one hour sessions that will give you an opportunity to meet fellow group members and become involved with an inclusive community, while learning more about technology and the trades. Each session will consist of an update of WiTT events and opportunities, a curriculum kit showcase and an activity related to a WiTT field, or career skill.
Upcoming Sessions:
Our WiTTConnect Meetups in Winter 2021 are themed around sustainability. In these sessions, we will have open discussion of these topics, and talk through the current state and problems. Bring your engineering mindset to the session to brainstorm creative solutions to these issues. Each session will also include updates on WiTT, curriculum kits updates, and a chance to win a $100 gift card
Sessions 
Date
Time
Register

Clean Water

Friday, March 19

12:00 pm to 1:00 pm EST

mohawkwitt

[at]

mohawkcollege.ca

(

Register

)

Social Sustainability

Friday, April

9

12:00 pm to 1:00 pm EST

mohawkwitt

[at]

mohawkcollege.ca

(

Register

)
WiTTConnect Tech Talks
WiTTConnect Tech Talks are an opportunity to learn about emerging technology fields from a faculty member or industry partner working in the field.
Sessions 
Presenter
Date
Time
Register

Energy

Majlinda Qarri

Wednesday, March 24
4:00 pm to 5:30 pm

 EST

mohawkwitt [at] mohawkcollege.ca (Register)

 
Visit Women in Technology and Trades Videos to view our latest tech talk on AI
Interested in Trying a Trade?
The District School Board of Niagara has great opportunities to try out different trades. Please click here to check them out!
Previous Event Topics
Mentorship
Networking
Technology Resources Available
LinkedIn Profile
Learning about each other's programs "Speed Dating"
Sustainability
Co-curricular Record and Public Speaking
Stress Management
Lock Picking
Hacking
Energy use and how to machine code to operate a process controller
STEM T-Shirt Making
Drones
Augmented and Virtual Reality
Creating a Brush Motor
Remote Working/Learning Tips
Future of Work
Mental Health and Wellbeing
Curriculum WiTTKits
Have you heard out our WiTT curriculum kits? A curriculum kit looks at how ideas concepts and ideas in science, engineering, math, and technology work together to help students engage with STEM based curriculum and virtualizations in small achievable tasks.
To learn more, please visit Women in Technology and Trades STEM Kits. The page will be updated shortly with more information.
RBC Future Launch Program
All of our Women in Technology and Trades initiatives are made possible with the generous support of RBC and the RBC Future Launch Program.
Contact Us
 
If you would like to receive ongoing communication about events and upcoming opportunities with WITT, visit Women in Technology and Trades Partners!
For more information on how to participate, please contact MohawkWITT [at] mohawkcollege.ca.
If you are an industry professional and are looking to support WITT, please contact Rebecca Isowa at rebecca.isowa [at] mohawkcollege.ca (subject: WITT%20Industry%20Inquiry)