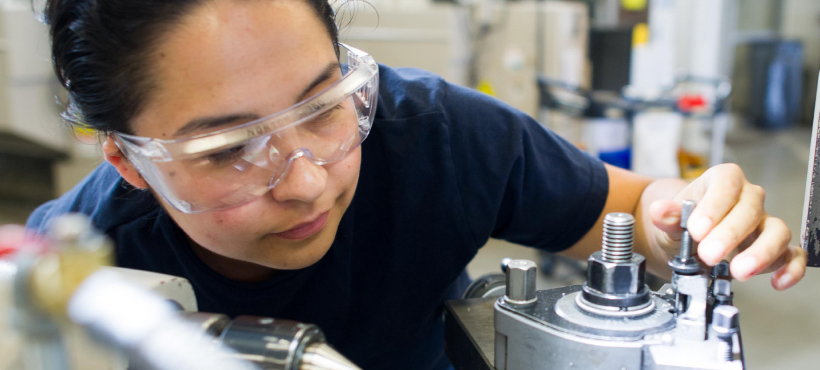 What is WITT?
WITT is a group that increases opportunities and supports for women in technology and trades in all fields, through a rich networking and support community. WITT welcomes industry, staff, students and faculty across all areas of the college and all genders, backgrounds, races and orientation to become involved and contribute to the support of women in technology and/or trades.
WITT strives to provide:
Mentoring and coaching
Networking opportunities
Career exploration
Pathways for success
Did you know?
In 2017, Mohawk participated in a Canada 150 Science, Technology, Engineering and Math (STEM) workshop. Participants at this workshop identified the need for females in technology to network as a community.
Also in 2017, Mohawk conducted a research project on women in trades that confirmed that while the general workforce is comprised of both men and women, in skilled trades only 3-5% of the workforce is comprised of women. As the average age of skilled trade workers approaches retirement, there is a clear opportunity for women and other underrepresented groups to seek rewarding careers in skilled trades. As a result of these findings, WITT was formed.
Picture a Scientist Film Discussion
The Tribeca Film Festival winner "Picture a Scientist" was made available Tuesday, June 1 – Thursday, June 3, 2021, through our Equity, Diversity and Inclusion, and Women in Technology and Trades (WiTT) departments. The trailer for the film can be found here: https://www.pictureascientist.com/media.
This important movie focuses on challenges faced by women who wish to pursue careers in the sciences. The screening was followed by a panel event on Monday, June 7,2021 from 4- 6pm. The discussion focused on insights and ways to address the barriers faced by women in these fields.
The panel consisted of:
Angelyn Francis, Reporter for the Toronto Star

Dr. Kim Jones, Chair of ONWiE and Associate Professor of Chemical Engineering at McMaster

Dr. Olivia Nuamah, National Inclusion, Diversity and Belonging Lead at PwC
The panel was moderated by Dr. Usha Vivegananthan, Academic Coordinator, Biotechnology Programs at Mohawk College.
Interested in Trying a Trade?
The District School Board of Niagara has great opportunities to try out different trades. Please click here to check them out!
Previous Event Topics
Mentorship
Networking
Technology Resources Available
LinkedIn Profile
Learning about each other's programs "Speed Dating"
Sustainability
Co-curricular Record and Public Speaking
Stress Management
Lock Picking
Hacking
Energy use and how to machine code to operate a process controller
STEM T-Shirt Making
Drones
Augmented and Virtual Reality
Creating a Brush Motor
Remote Working/Learning Tips
Future of Work
Mental Health and Wellbeing
Curriculum WiTTKits
Have you heard out our WiTT curriculum kits? A curriculum kit looks at how ideas concepts and ideas in science, engineering, math, and technology work together to help students engage with STEM based curriculum and virtualizations in small achievable tasks.
To learn more, please visit Women in Technology and Trades STEM Kits.
RBC Future Launch Program
All of our Women in Technology and Trades initiatives are made possible with the generous support of RBC and the RBC Future Launch Program.
Contact Us
 
If you would like to receive ongoing communication about events and upcoming opportunities with WITT, visit Women in Technology and Trades Partners!
For more information on how to participate, please contact MohawkWITT [at] mohawkcollege.ca.
If you are an industry professional and are looking to support WITT, please contact Rebecca Isowa at rebecca.isowa [at] mohawkcollege.ca (subject: WITT%20Industry%20Inquiry)