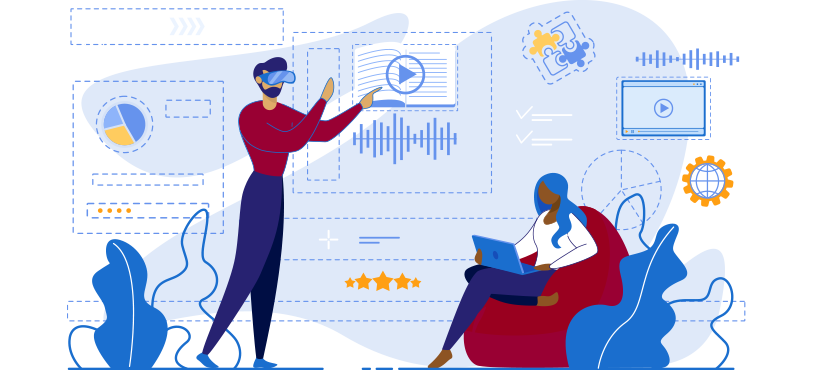 Virtual and remote learning
On this page:
What is virtual and remote learning?
Virtual and remote learning means you'll have the opportunity to do all your learning from wherever you are.
Whether your program will be delivered entirely through remote and virtual learning or will include some on-campus experiences, you will have the opportunity to learn together with your peers and develop the skills and abilities required for your future career.
Watch: Alison Horton, Vice President Academic
Remote learning means you will:
Access course content, materials, and resources online, anytime through MyCanvas, Mohawk's online learning management system​
Connect and collaborate with your classmates and instructors
Access to tools such as Microsoft Office 365 and Microsoft Teams at no extra charge
Remain connected and engaged in your learning ​
Attend classes and participate in learning and assessment activities using a suite of web-conferencing tools.​
Ask questions via discussion boards and live chat​
Virtual learning means you will: ​
Use a range of apps and online tools to simulate real work scenarios ​
Gain experience through activities such as role-play, case studies etc. ​
In some programs, students will have the opportunity to participate in simulated virtual, augmented and mixed reality environments and scenarios.
How you'll learn
Our faculty and staff have worked to build engaging virtual and remote learning environments and activities to ensure students learn and apply their knowledge and skills. By using technology and simulation you will gain the valuable experience that employers are looking for in today's workforce.
In your program, you will:
Engage with faculty and peers in a mix of scheduled, real-time, and on-demand learning​
Develop the skills to work independently and as part of a collaborative team to solve real-world problems 
Establish your professional communication skills through researching, reflecting, and presenting your learning​
Have flexibility to manage school, family, work and other commitments
Frequently asked questions 
Benefits
Learning in this environment will strengthen in-demand skills like:

Time management
Learning to balance school, work, and family commitments will enhance your time management skills.
 

Professional communication
Exploring a variety of communication tools, such as online chat and discussion boards, will elevate your communication skills. 

Computer skills
Using industry-leading software to complete assignments and activities will improve your computer skills.
 

Problem-solving skills
Adopting new ways of interacting with peers, including virtual group work and online collaboration, will teach you to solve problems in new ways. 
How your program will be delivered 
As leaders in virtual and remote education, we are ready to provide an exceptional learning experience, whether you are joining Mohawk for the first time this fall or returning for another semester. 
This fall, programs will be delivered in one of two ways:  
Fully remote: all courses will be delivered in a fully remote and virtual environment. Students will not be required to attend in-person.  

In-person requirements: courses will be delivered by a combination of remote learning and some in-person requirements. One or more courses in the program will require students to attend in-person on campus, or attend an off-site placement.  
Experiential learning
As a leader in experiential learning, Mohawk provides hands-on experiences to prepare you for a successful transition to the workforce. From simulations to capstone projects, co-op to placement, our programs include many forms of experiential learning.
Students accessing virtual learning from abroad
Technology
A reliable Internet connection and computer are required to access virtual and remote learning. Learn more about technology requirements and options for accessing the Internet if your connection is not reliable.
If you are unsure how to set up your technology for success, contact the Library TECH BAR for assistance (email tech.bar@mohawkcollege.ca outside of regular EST hours).
Accessing Help
All international students must download the iCent app to receive important information about studying at Mohawk. Once downloaded, students will receive notifications and information about relevant tips to be successful in their studies.
International students have access to the COVID Safe service accessible from within the iCent app. Through the COVID Safe service, international students can chat or call 24/7 with live volunteers from August 1 – September 30 and get help with any questions they might have.
If you are feeling isolated and need a fellow student to talk to, consider the Student Mentor program. See the Student Mentor page for information on how to get involved.
Study Tips
If you are studying from a different time zone, be sure to let your professor(s) know so they are aware. It is not always possible to schedule meetings and classes at a time that is convenient for everyone but it is helpful for your professor to know if you are accessing the course from a different time zone.
Similarly, if you have group assignment, be sure to let your team members know that you are studying from a different time zone from them. Agree to timelines, goals and expectations at the outset so that team members are aware of group expectations and each member's situation and ensure constant communication. See this Group Work resource for further tips on group work and see the Tips for Learning page for even more study tips.
If you need extra help or are falling behind, be sure to discuss any issues with your professor(s) as soon as possible. Your professors want you to succeed and may be able to recommend resources to support you. Also, see the list of online student services for a list of supports such as Student Success Advisors and the Learning Support Centre. Even though you are not in Canada, free virtual supports are available to help you!
Stay organized – as you are studying in a different time zone, make sure you record all of your assignment, test, class meetings and project due dates in EST. It will help to make sure you don't accidentally miss any deadlines. Take some time when you receive this information from your professors and plan it out for your semester