Bus Terminal Temporary Closure
Please be advised that Mohawk Transit Terminal will be closed from 7:00 a.m. on Monday, April 15, 2019 to 5:00 p.m. on Friday, April 19, 2019 for repairs.
During this time HSR buses will be detouring using the following route: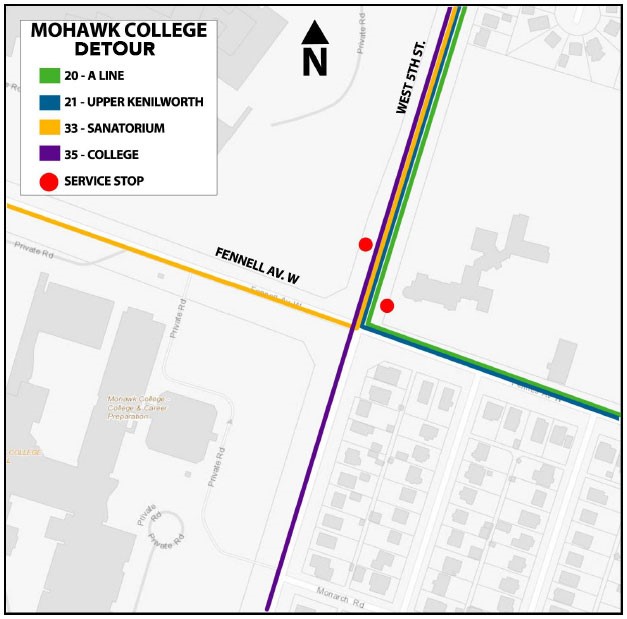 Signs will also be posted at the Terminal directing bus users to the correct pick-up and drop-off locations.
Please note that this repair might be delayed due to weather. Updates will be provided as needed.
If you have any questions, please contact:
Gary Sachs, Manager: 905-575-2279 or gary.sachs [at] mohawkcollege.ca
John Sullivan, Team Lead, Grounds: 905-575-2418 or john.sullivan9 [at] mohawkcollege.ca.
Thanks for understanding and cooperation in order to complete this repair.
HSR Bus Routes
Fennell Campus
Check out the Mohawk College Transit Terminal Guide (opens PDF, 325kb)
Platform
Route
Platform 1
20 A-Line Express - Southbound
21 Upper Kenilworth - Southbound
Platform 2
33 Sanatorium - Southbound
Platform 3
20 A-Line Express - Northbound
21 Upper Kenilworth - Northbound
Platform 4
33 Sanatorium - Northbound
35 College - Northbound
Platform 5
35 College - Southbound
Stoney Creek Campus
Institute for Applied Health Sciences
10 B-Line Express
1A King
51 University
---
GO Bus Routes
Institute for Applied Health Sciences
Platform
Routes
Platform 1 WB
(47) Hamilton GO
Platform 2 EB
(15, A) Aldershot GO
Platform 2 WB
(15) Brantford GO
Platform 3 EB
(47F) York U
Platform 4 EB
(47A, B) Bramalea GO/Square One
Platform 5 EB
(47C) Erin Mills Transitway Station
(47E) Oakville Carpool Lot
(47H) Bronte Carpool Lot
---
Get your Student HSR Universal Transit Pass
The Mohawk Students' Association has partnered with the Hamilton Street Railway to provide Full-time students with an HSR Bus Pass. This is a mandatory fee for all students, with the cost of $68.59/semester. The bus pass allows students to commute on any HSR transit bus as many times as they wish, throughout the validity period.
How can students participate?
Full-time students can visit the ONE Card office to receive a bus pass sticker on their ONE Card after they have registered. New stickers are distributed at the beginning of the terms, allowing validity for the semesters the student has paid for. Please visit ONE Card to receive your HSR Universal Pass.
Opt-outs:
Opt-out circumstances for the bus pass are limited and defined by the HSR and not controlled by the MSA.
Only students on a full semester work placement (where they are never on campus attending classes), more than 50 km outside the HSR service area are able to opt out.
For more information on the Student Universal Transit Pass, visit the MSA Office (G109). To receive your HSR sticker, visit the OneCard Office (F101)
Visit Sustainability to learn how Mohawk is reducing it's carbon footprint.