We are running Pathfinder 2021 this year! 
Due to the on-going COVID-19 restrictions, we're unable to physically host our annual summer experience on-campus. Instead we will be offering a virtual opportunity for youth 16 – 21 to participate in an introduction to post-secondary education with online workshops and teachings centered around Indigenous culture.
Pathfinder will be delivered through virtual Zoom Conferencing and Microsoft Teams and additional materials will be provided for hands on activities. The program will be delivered using both a synchronous and asynchronous learning model.
Pathfinder workshops will be spread out over a three-week period during August. Program dates: August 5 - August 25, 2021.    
Students who participate in Pathfinder 2021 will have the opportunity to earn a dual credit in Indigenous Wholistic Practices. 

Indigenous (First Nations, Métis, Inuit - FMNI) students who would like to register for this program must be associated with a high school - students must not have graduated high school yet.

Technology with internet access will be provided to each participant who requires it.
Additional supplies and program materials will be mailed to students prior to the start of the program.
All other additional program logistics will be communicated to participants before the beginning of the program. 
Session is limited to 15 participants.
Attend an upcoming Information Session on: 
Stay tuned for more session dates
To register visit: https://www.mohawkcollege.ca/form/special-event-registration
If you have any questions about the Summer of 2021 programming, please contact our Indigenous Awareness Programmer, Amanda Aitchison, at amanda.aitchison2 [at] mohawkcollege.ca
What is Pathfinder?
Pathfinder is a summer program for Indigenous students meant to de-mystify post-secondary education, and is focused on Indigenous culture, identity, leadership skills, and pathways into post-secondary. 
What programming takes place? 
In past years, students have gathered at Mohawk College to participate in the land-based learning opportunity and been able to earn a dual credit or college credit depending on the time of year and activities. Past activities have included resume and portfolio building, career exploration, guest speakers, offsite trips, overnight excursions, ceremony with Elders and Knowledge Keepers, and college program engagement. 
How has the program evolved? 
The program has went through a number of variations - this past year we engaged with students aged 18 - 21 for an opportunity to spend one week at Mohawk College and one week in Vancouver, British Columbia, earning a Mohawk College Credit through experiential and practical learning. After the week in Vancouver, students spent 2 additional days at Mohawk College to complete the program.
For the first time, we recently offered a Winter Pathfinder experience focused on program exploration, leaderships, Indigenous culture, and portfolio building. 
For questions, please contact amanda.aitchison2 [at] mohawkcollege.ca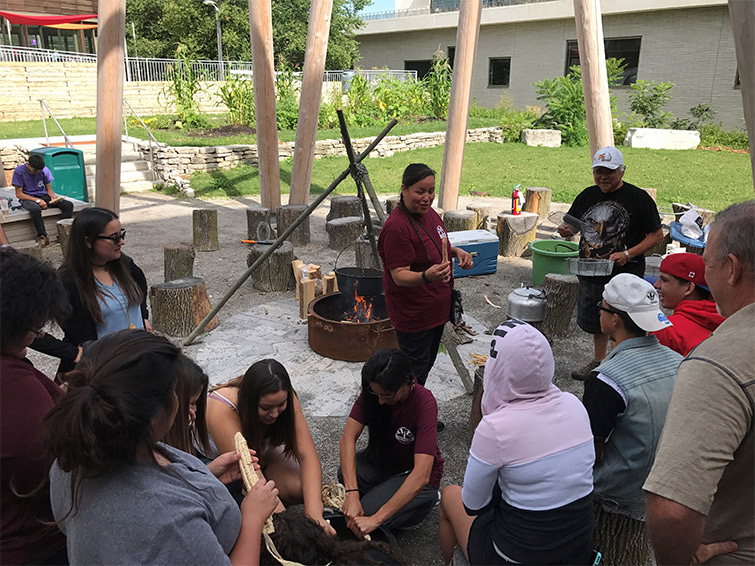 Pathfinder Video: