Clear and concise lecture notes support learners to prepare for lectures, study more efficiently, and complete assessment more effectively. However, many students struggle with effective note taking and do not end up with the course content that will serve them best. In addition, note taking accommodations are among of the most common for students with disabilities, and it can be challenging to implement this type of accommodation for both learners and faculty.
There are a number of ways faculty can proactively support all students to have complete and comprehensive course notes, including:
Posting lecture/course notes.
Posting lecture presentations.
Crowdsourcing lecture notes.
Audio recording
Posting Lecture Notes
By posting lecture/course notes to the online course site in advance of class, learners can proactively review lecture content and prepare for class. Providing notes in advance also removes the individualized accommodation barriers for students with disabilities, as well as faculty.    
Lecture notes can include:
Complete faculty notes.
Notes that include blank spaces where students can complete notes during the class.
A series of questions about the lecture that learners can answer in class and/or using weekly resources/readings.
A detailed outline of the lecture, with completed notes to be posted after the class.
To support the greatest accessibility it is ideal to post the notes in two formats, such as copying and pasting the notes into the HTML editor and proving a link to a Word document. If faculty require support is required to include links to downloadable Word documents, connect with the designated Educational Technology Specialist. 
Implementation
Post lecture notes, in advance, to the online course site.   

The posted notes can be organized however the content is organized, for example by week or module. 

Advise students that lecture notes have been posted and provide them with explicit instructions on how to use the notes effectively. 

The instructions could include reviewing the notes prior to class, printing or downloading the notes to complete them in class, using the notes effectively to study, etc.
Crowdsourcing Lecture Notes
Crowdsourcing of lecture notes was an idea originally developed by Dr. David Rose from Harvard. It was designed within the framework of UDL to support the note taking needs of students and to minimize note taking efforts of faculty. Crowdsourcing lecture notes has the capacity to:
Support all students to double check content and improve their notes and note taking skills.
Encourage every learner to have complete and effective study notes, with minimal additional effort for the educator.
Allow faculty to see what students are taking away from lectures.
Reduce the need for peer note taking support for students with disability related note taking needs.
Crowdsourcing lecture notes involves having students, who are attending classes and taking notes anyway, share them. This is most easily done by students posting their notes to a designated space in the online course site. Once posted, any learner in the course can access the notes and use them to study, correct their notes, catch up on missed classes, etc.
Implementation
There are a variety of ways that educators can provide space for crowdsourced lecture notes in the online course environment:
Create a Collaboration space for each module/unit where students can post their notes from each lecture.
Recommend the Discussion area be used to post notes.

In order to let students add documents, create posts, and/or edit their content permission needs to be granted. To do this, into Settings, click on More Options at the bottom of the Settings page and check the boxes that state "Let students attach files" and/or "Let students create discussion posts" and "Let students edit or delete their own discussion posts".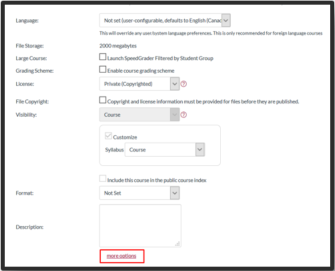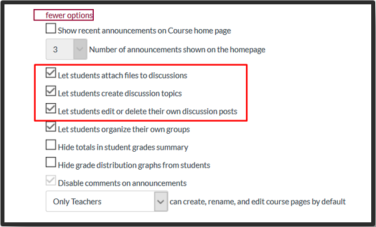 Use the Conferences tool to open a space for notes during and after lectures.
Develop an editable Page for each module/unit where students can post their notes from each lecture.

Be sure to provide a clear and concise title for each lecture note Page and ensure that both teachers and students can edit the pages by using the Options menu in the Pages tab.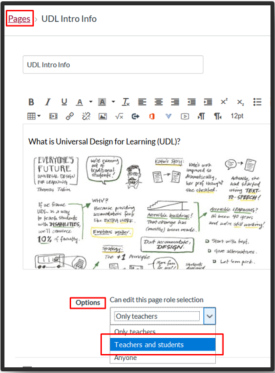 If you have questions regarding which would be the best tool to offer crowdsourcing within a course, connect with the Educational Technology Specialist for your area.
Once you have determined the best way to include crowdsourcing lecture notes as an initiative in your course, let students know and encourage them to post their notes. Some faculty have found it helpful to offer an incentive for students to share notes by offering a reference letter or encouraging students to apply for the "Student Services - Note Taker – Crowdsourcing" co-curricular record credit when they have completed 15 hours or more of note taking.
Audio Recording
Occasionally educators may get a request to, or an accommodation letter for, audio recording lectures. If there are some students requesting audio recording lectures, it is likely that there are other learners that would benefit from having lecture content in an audio format, as well. However, student audio recordings can have challenges. Given in-class activities, group discussions, etc. it can be difficult to gain an ideal recording of the lecture content. In addition, concerns regarding who is being recorded and consent of others being recorded may exist in some courses that discuss sensitive content. If these are challenges in your course, you may wish to provide audio recording options to all students in support of improved note taking and access to course content after the lecture is over.
Implementation
When audio recording lectures will be supportive of note taking efforts, there are options that faculty can employ to improve the ability of learners to get something valuable and easy to listen to and study from. Educators can:
Create a lecture overview video that includes key lecture information.

This option creates both an audio and visual resource that supports not only note taking, but also providing multiple means of representation.
Panopto has an auto-caption function that can be manually corrected for accuracy and can be integrated into the online course site.

Provide an audio overview of the lecture and post it to the course site in the folder of the week it was delivered.
If you are using PowerPoint, create an audio overview for each slide.
Provide comprehensive lecture notes in Word or HTML in the online course site so that students can use the text-to-speech tools to listen to the content.
To learn more about the ways that online course tools can be leveraged to support audio recording of lectures, connect with the Educational Technology Specialist for your area.