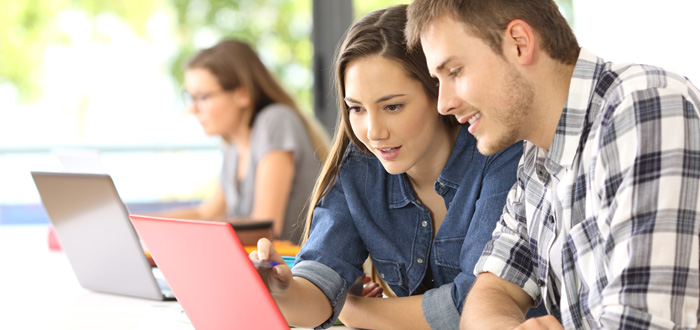 The Learning Support Centre is online Fall 2021
Peer Tutoring offers FREE one-to-one help with your course content, from senior students in your program!
Peer Tutors provide support primarily with first-year subjects for students in 2 to 3-year diploma programs

You can access up to four hours of peer tutoring per week (subject to availability)

Appointment times are subject to tutor availability

For assistance email lsc [at] mohawkcollege.ca 
Who will be my peer tutor?
Your tutor will be another student who has already taken the course and excelled in it. Peer tutors have been recommended by faculty and have been trained in tutoring techniques. They know the challenges in your course and want to help you to succeed!
How can a peer tutor help me?
Clarify course content

Clarify assignment questions

Prepare for presentations

Prepare for tests and exams

Provide study tips and strategies

Set up your calculator and provide tips
Peer tutors will not do your homework, assignments, or MyCanvas quizzes for you. Tutoring is not a replacement for going to class.
What can I expect at a tutoring session?
Your peer tutor will help you with the course that you booked the appointment for. The tutor is there to help you, so the appointment will focus on what you want to work on.
The peer tutor can answer your questions, guide you through confusing topics, and challenge you to practice questions to prepare for tests and exams. Peer tutors also listen to your concerns and help you develop stronger study methods to help you to succeed in your course.
Tutoring appointments are 50 minutes (for 1 hour appointments). This allows tutors to complete administrative tasks and allows tutors to get to class on time.
Is there anything I need to do before my appointment?
Yes! Time goes by fast, so coming prepared is beneficial. Prior to your appointment, review areas that are causing you difficulty. To start, review your course outline, homework, or class notes.
Remember that tutors will be helping you with the course that you booked appointment for, they will not be providing support for multiple courses.
When you come for your appointment
Arrive on time (tutors will only wait 15 minutes)

Bring your course materials, course outline, class notes, textbook or practice materials

Be prepared with questions that you want to ask your tutor

Be open to discussing what is most difficult about the course
Do not skip class to come to tutoring. Make sure you attend class regularly, complete the required readings, and work through your homework. You tutor will help you through your course content but cannot re-teach the material for you.
Peer Tutors provide a lot of support! But they cannot...
Complete MyCanvas quizzes with you

Have lesson plans prepared for you

Do your homework for you

Have access to your MyCanvas
Remember, tutors are students too. They are not there to teach you content as your teacher is the expert in the field. Tutors may not have all the answers to your questions; therefore, some questions will need to be directed to your teacher.
Ensure that you bring all the materials you need to have a productive session.
I cannot find a peer tutor for my program
Our peer tutors are upper semester students; therefore, we primarily provide support for 2-3 diploma programs.
If you are having trouble locating a tutor in your program, please contact us via email, lsc [at] mohawkcollege.ca.  We can assist you in the matching process.
Course Peer Tutoring Guidelines
Course Tutoring is to be used for Mohawk College academic related activities only.
Students are expected to participate in the peer tutoring process

Appointments can be booked 7 days - 2 days ahead of time and are available on a first-come, first-served basis (appointments are based on tutor availability and are not guaranteed)

Maximum one 60 minute session per day; maximum four sessions per week

Appointments can be cancelled up to 3 hours before your scheduled time

All appointments for Spring 2021 are hosted online

After two "no show" appointments or three cancelled appointments, your online tutoring account may be suspended until you speak with a member of the LSC staff

Remember: this is a service provided for students, by students
Assignments
Book your appointment at least 24 hours before your assignment is due, so that you have enough time to make revisions
Note: We do not compose, edit, or re-write assignments. Therefore, YOU are ultimately responsible for your work and assigned grade.