Reflection is a deliberate action in which the participant consciously thinks about an experience, assesses what happened and offers an evaluation. A critical aspect of reflection is that it is conscious and deliberate (Boud, Keogh & Walker, 1996; Brookfield, 1998; Schon, 1998). Reflection involves considerations of thoughts, feelings and actions, recognizing that learning affects the cognitive, affective and psychomotor domains (Figure 4) (Bloom, 1956). Linking to each of the domains allows for a more holistic approach to learning which can result in new skills, knowledge and/or attitudes, solidifying connections to learning outcomes and essential employability skills.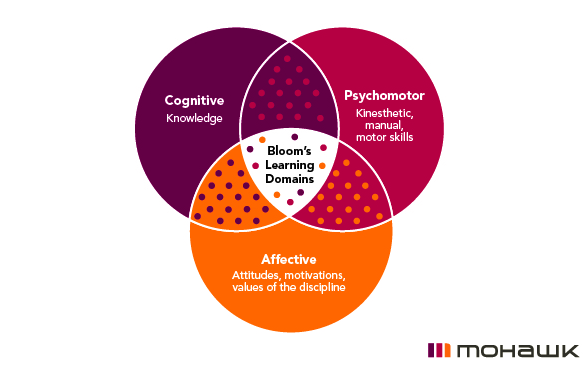 Figure 4: Bloom's Learning Domains
Given that reflection is a skill that is learned, educator support is vital for student success. Additionally, educators should take a moment to reflect on the experience from their perspective, concluding with evaluations for future experiences. This section of the handbook provides reflection considerations for both students and educators. The assessment section of the handbook can be used to garner awareness on the activities that can support reflective practice.
Educators should consider engaging the learner in a pre-experience reflective activity. Past experiences of learners will impact how a learner engages with a new learning experience; deliberate reflection asks learners to consider what they bring to experience (i.e., knowledge, attitudes and skills) and how this might impact their experience (Boud, Keogh & Walker, 1996).
Gibbs (1988) offers a reflective cycle that students can use during and after their experience (Figure 5).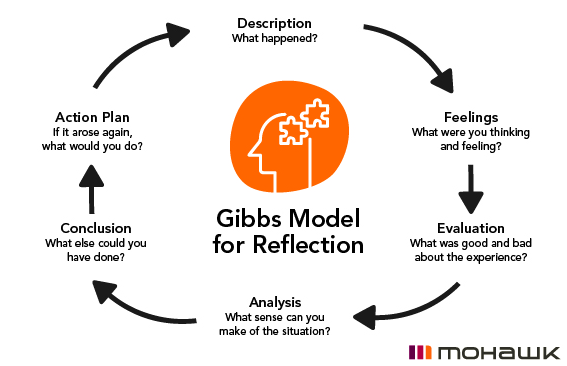 Figure 5: The Gibbs Model for Reflection
As a starting point for reflection, educators can also guide learners with three simple questions: what, so what and now what. Expanding on these questions can include asking questions such as:
What happened?
What was different than you expected or is different from your prior knowledge?
What might this mean or tell you? Is there anything you need to learn more about?
How will this impact you personally? How have your views or understanding changed?
What will you do differently as a result of this learning/experience?
What might this mean for the field/work/subject area?
As an educator, you can guide learners in their reflective practice, helping them to identify critical events that occurred in the experience and connecting these experiences back to the course learning outcomes. For assignment specific reflection prompts, activities and/or assessment tools, consider connecting with the ctl [at] mohawkcollege.ca (Centre for Teaching & Learning).
Similar to students, educators are encouraged to reflect on the upcoming experiential learning activity, its connections to course content and expectations for student learning.
Pre- and post-reflection should consider Brookfield's (1998) four critical lenses for reflection: self, student, colleagues, and scholarship (Figure 6). Brookfield (1998) suggests that educators should be consciously aware of and considerate of these lenses as they all contribute to effective pedagogical practice. Specifically, conscious reflection of the self enables educators to develop an awareness of their teaching pedagogy and its potential implications for classroom facilitation.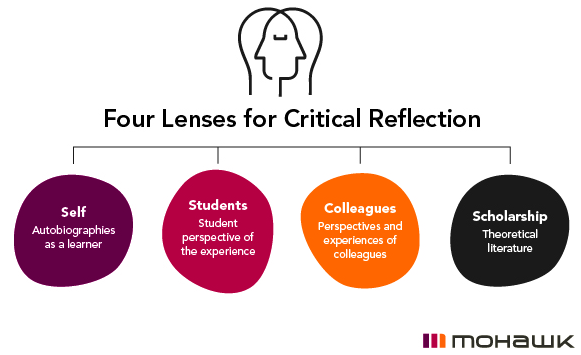 Figure 6: Brookfield's Lenses for Reflection
As a starting point, educators can consider Brookfield's (1995) questions for reflection:
What moment(s) did you feel most connected, engaged or affirmed as a teacher?
What moment(s) did you feel most disconnected or disengaged, or distanced as a teacher?
What moment that anyone in the room took did you find most affirming or helpful?
What moment that anyone in the room took did you find most puzzling or confusing?
What surprised you most during or after the activity?
What do you feel proudest of in your teaching activities this week and why?
Additional reflection activities can include journal writing, creation of a teaching portfolio and teaching inventories.
Boud, D., Keogh, R., & Walker, D. (1996). Promoting reflection in learning: A model. Boundaries of adult learning, 1, 32-56.
Brookfield, S. (1998). Critically reflective practice. Journal of Continuing Education in the Health Professions, 18(4), 197-205. DOI:10.1002/chp.134018040
Hobbs, V. (2007) Faking it or hating it: can reflective practice be forced? Reflective Practice: International and Multidisciplinary Perspectives, 8:3, 405-417, DOI: 10.1080/14623940701425063
Larrivee, B. (2000) Transforming Teaching Practice: Becoming the critically reflective teacher, Reflective Practice: International and Multidisciplinary Perspectives, 1:3, 293-307, DOI: 10.1080/713693162
Schon, D.A. (1995). Knowing-in-action: The new scholarship requires a new epistemology. Change, 27(6), 26-34. DOI: 10.2307/1180029