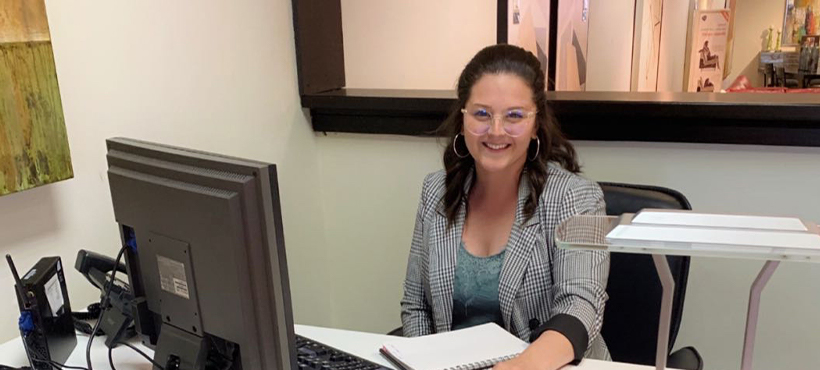 Explore our resources below
Information for Students
In your final semester of the program, you will take courses in the first 7 weeks of the semester and then complete your field placement in weeks 8-14.  That means courses will run January and February and you will be available to start your placement full-time in March.
Field placements must be advertising or marketing-related, but they do not have to be at an advertising agency.  The position must provide a structured environment for the student:
Report to at least one person daily
Have outlined goals, defined tasks and procedures to follow
Have a mentor with expertise in the field (the student can't be the "expert" guiding the employer)
Students must complete a minimum of 245 hours of continuous employment in the field placement.  This can happen in a variety of schedules such as 35 hrs/wk x 7 weeks, 49 hrs/wk x 5 weeks, 12 hrs/wk x 21 weeks.
The field placement position can be paid or unpaid.  For example, if a student secures a full-time job, it can qualify as your field placement if it meets all of the criteria and the employer is willing to submit an evaluation after completing 245 hours.
Field placement requirements must be complete by mid-May at the latest for students to be part of the June convocation.  You must be in good standing in your other courses before participating in your field placement.  If you are not in good standing, you must get permission from the Program Coordinator.
As employers reach out with potential placement positions (paid or unpaid), students can find job postings in CareerReady in the Resources section of the Experiential Learning page.
Paid field placements
Students who accept a paid placement are considered employees of their Placement employer and are not covered by the Ministry, but should be covered by their employer's WSIB or Private Insurance plan.
Information for Employers
Advertising students are available to work full-time starting in March of their final semester when they are required to complete a field placement. There are opportunities for them to start on a part-time basis earlier in their final year.
If you are looking to hire someone who can guide your advertising communications, please consider hiring one of our graduates who already has experience. Send the job details to our janice.warren [at] mohawkcollege.ca (Program Coordinator) to post for our alumni.
If your organization already has communications expertise and is looking to take an upcoming graduate under your wing and mentor them, please fill out the Employer Participation form to have your position posted.
Mock Interview Feedback Forms
Realities course. For employers participating in this assignment, please fill out the Advertising Interview Critique form. This form is to be completed by participating employers, NOT students.
WSIB Information for Students and Employers
All Mohawk College students on unpaid work placements as part of their program are covered by some form of accident insurance. Should an accident/incident occur in the workplace while a student in on field placement, students are covered by either WSIB or Private Insurance (based upon which method the placement employer covers their regular employees) through the Ministry of Colleges and Universities (MCU)*
*Please note: students who choose to do an out-of-province or out-of-country unpaid placement are not covered by WSIB. There may be a possibility of limited coverage by private insurance; please contact your coordinator for more details before confirming your placement.
In case of an accident/incident, please follow the instructions outlined in the WSIB Insurance Information page.
Program Information
---
Contact us
Email: Janice Warren - janice.warren [at] mohawkcollege.ca
McKeil School of Business, School of Communications, Creative Industries & Liberal Studies  Fennell Campus
Mohawk College
Hamilton, ON
L9C 0E5 (Canada)
Main Office: 905-575-2005