Overview
Active learning is a process whereby students engage in activities, such as reading, writing, discussing, or problem solving that promote analysis, evaluation, and creating. It moves students from passive e.g. listening to a lecture, to the active where students are engaged agents in their own learning. Other common and often connected terms with which you are likely familiar include: Bandura and Vygotsky's social constructivism; cognitive constructivism; plain ol' constructivism; Bruner's discovery learning; Ausubel's meaningful reception. These place emphasis on students' prior learning and experiences to enhance current learning - a necessary component of active learning.
Active Learning Classrooms (ALCs) are an interesting subset of research and information on active learning. A crucial element of many face-to-face active learning instructional strategies is space. Unfortunately, most post-secondary institutions were built to facilitate lecture-based classes, not active learning environments.  The good news - where face-to-face classrooms don't accommodate active learning, you can move active learning strategies online.
Grasping active learning has clicked for some faculty when told to remember elementary school. If you are 45 or younger, hour plus lectures were likely not part of your K-8 school day. Your younger student self-manipulated materials, moved, and participated in multiple, short activities.
How it works
For learning to be active, students must be at the centre. Your subject matter expertise presents and frames the new knowledge and/or concepts, but students should be immediately and meaningfully interacting and engaging with those new ideas. Your role moves from lecturer to facilitator, where you use your strengths as an educator to deepen and extend students' learning.
True, active learning is truly scary. We, as faculty, move a place of comfort ( e.g. lectures, PowerPoints, step-by-by step videos) out in the open. Here we may have challenging questions, groups working on different angles - even different projects, etc. The lesson plan changes from a basic 60-75 minute lecture followed by an assignment to multiple, five minute intros followed by 15-20 minutes of controlled chaotic, student driven exploration and integration that ideally ends in reflection or resolution.
Luckily, there is an ever-growing pool of strategies and resources to support active learning. Likely, you already use many of them and know many more. PBL (problem-based learning), case studies, polling, debates, jigsaw, minute papers, mind mapping, storyboarding, and think-pair-share are a few tried and true active learning instructional strategies. (See Durham College's CAFE website for a description of some of these.) Even though it's approaching middle-age, Angelo and Cross's 50 CATs is a great resource on active learning strategies.
Use at Mohawk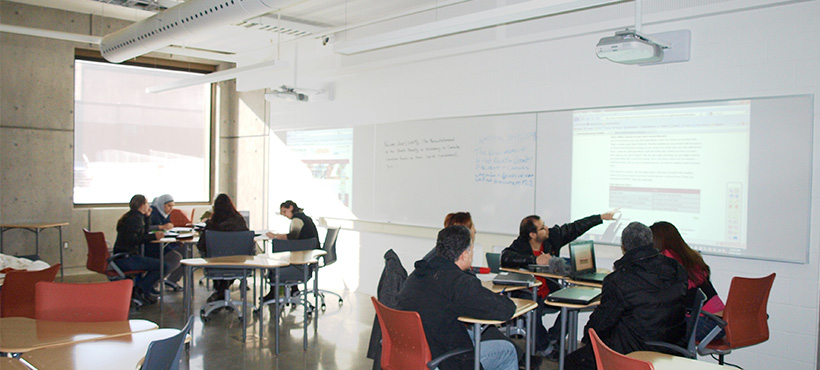 One of the active learning classrooms at the Fennell campus (H wing.)
Talk with your Associate Dean about re-designing your course for more active learning. Naturally, active learning impacts assessments. Multiple choice quizzing and standard final exams are not often part of active learning experiences.
There are also certain learning spaces more adaptable for active learning at Mohawk. For example, Fennell campus has H wing classrooms with more flexible furniture and technology options.
Who can help you at Mohawk
More information
Berrett, D. (2012). How "flipping" the classroom can improve the traditional lecture. Education Digest: Essential Readings Condensed For Quick Review, 78(1), 36-41.
Abstract excerpt: "As its name suggests, flipping describes the inversion of expectations in the traditional college lecture. It takes many forms, including interactive engagement, just-in-time teaching, and peer instruction. The immediacy of teaching in this way enables students' misconceptions to be corrected well before they emerge on a midterm or final exam. The result, according to a growing body of research, is more learning." A concise and clear outlining of the issues involved in active learning.
Harmin, M., & Toth, M. (2006). Inspiring active learning. [electronic resource] : A complete handbook for today's teachers. Alexandria, Va.: Association for Supervision and Curriculum Development, c2006.
The nine sections of this online book make it a handy reference when wading into active learning. Although a tad older, it provides a sound overview of the basics.
Park, E., & Choi, B. (2014). Transformation of classroom spaces: Traditional versus active learning classroom in colleges. Higher Education, 68(5), 749-771. doi:10.1007/s10734-014-9742-0
Abstract excerpt: "Educational environment influences students' learning attitudes, and the classroom conveys the educational philosophy. The traditional college classroom design is based on the educational space that first appeared in medieval universities. Since then classrooms have not changed except in their size. In an attempt to develop a different perspective of educational environment, a new design of classroom, the active learning classroom (ALC), has developed." Explore this new design on student learning.
The Durham College CAFE website also lists and describes several "learning techniques" that might be helpful when building active learning into your course.